Cold Buster Immune Armor - with Elderberry, Zinc, Vit C & D, Echinacea (16 oz)
Daily "All-in-One" Immune Health Solution.

All the immune nutrients you want in one ounce.
Immune • Respiratory • Cellular Health*
Staying strong is very important now more than ever. This specialized product combines high potency vitamins, minerals and antioxidant-rich botanicals to deliver a convenient, powerful and affordable daily immune health solution.* Its liquid design goes to work fast and tastes great!*
WHY YOU'LL LOVE OUR "IMMUNE ARMOR" SOLUTION
• Tastes Delicious
• Contains Elderberry Sambucus, Ionic Zinc, Vitamin C, Vitamin D, Plus 16 Additional Plant Sources
• Non-GMO
• No Gluten, Soy, Dairy or Artificial Ingredients
• Liquid Fast Design – No Pills or Mixing
• Cold-Blended & Non-Pasteurized
EACH LIQUID SERVING CONTAINS OVER
2,950 MG OF IMMUNE POWER*
• Elderberry Sambucus • Ionic Zinc (Zn2+) • 500% RDA of Vitamin C
• Echinacea • Green Tea • Organic Honey • 100% RDA Vitamin D
• Broccoli • Cranberry • Magnesium • Oregano • Blueberry
• Orange • Black Currant • Aronia (Chokeberry) • Calcium
• Lemon • Chamomile • Copper • Apple*

Strong Defense • Liquid Fast

This liquid formula contains a powerful combination of cold processed, plant-based nutrients in addition to vitamins, minerals and antioxidants to support immune health.* Support your body's "immune armor" with this convenient fast acting liquid – no messy powders to mix or hard to swallow pills.

What's The Best Way to Use?
• Take it straight as a 1oz shot
• Add to water or your favorite beverage (great with tea or juice)
• Put into the freezer (single serve packets) and enjoy as a "freezie"
What Customers are Saying
"This is a great product for anybody looking for immune health." — H.R., verified buyer
"This product works very fast. I highly recommend it!" — Cheryl, verified buyer
"I am all about NATURAL remedies and this little packet delivers a powerful punch! Tastes great and the body LOVES IT." — Tom, verified buyer
---
IMMUNE POWER INGREDIENTS*
Learn More About Ingredients
• Elderberry: Antioxidant-rich fruit contains many vitamins and minerals essential for immune system health: vitamin A, potassium, vitamin C, calcium and iron.*

• Vitamin C: A water-soluble vitamin and powerful antioxidant which helps the body form and maintain connective tissue including bones, blood vessels and skin. It supports immune health, white blood cell function and overall antibody responses.*

• Green Tea: Contains bioactive polyphenols that function as antioxidants. Antioxidants help negate damage from free radicals.* Green tea's high-potency catechins have been associated with heart healthy benefits and normal blood flow.*
• Zinc: An essential mineral found in cells throughout the body that help the immune system address invading bacteria and viruses.* Zinc is critical to other enzymes that support proper free radical balance in the body. It is important for proper sense of taste and smell as well has topical wound application.*
• Echinacea: This herb encourages immune health and is often used by individuals when feeling run down or unhealthy.* It also aids in healthy cell growth, blood flow, and can aid in relaxation.*

• Aronia (Chokeberry): Known for having one of the highest level of antioxidants when compared to other fruits, this fruit is key in promoting a feeling of youthfulness. It also offers overall benefits for the circulatory, respiratory, and digestive systems.*

• Oregano: A natural herb that possesses antibacterial properties.* It is loaded with antioxidants which help address cell damage and is a source of fiber, vitamin K, manganese, iron, vitamin E, tryptophan and calcium.*

• Black Currant: An exceptionally rich source of vitamin C - containing multiple times more vitamin C than oranges. Black Currants have a combination of natural phenolic compounds. This includes anthocyanins, compounds that help address cardiovascular health, brain health and possess benefits for inflammation response by the body.*
Antioxidants, Vitamins & Minerals for Immune Function*
• Cranberry: Considered a "superfood" due to its high nutrient and antioxidant content, it also helps support the integrity of bladder walls to promote urinary health in both men and women.*

• Organic Honey: Another good source of antioxidants, which play a role in heart health and protecting the body from cell damage due to free radicals.* Honey is also a powerful phytonutrient with antibacterial and antifungal properties.*

• Vitamin D: An important factor in the well-being of your immune system.* Vitamin D is crucial for normal immune health.* It is key for growth and development of bones and teeth as well as healthy cellular replication.*

• Chamomile: This flower, mostly used in teas, helps encourage a sense of calm and aids in relaxation.* It contains antioxidants, such as apigenin, which may also assist sleep quality.*
• Calcium: One of the most vital minerals for optimal functioning of your entire body. It plays a role in facilitating the secretion of certain hormones and hormone releasing factors and supports cell membrane permeability by facilitating the passage of compounds in and out of cells.*

• Copper: A component of the protein ceruloplasmin and the enzyme copper-zinc superoxide dismutase, both of which have been shown to inhibit free radical formation.* Copper is also a vital component of the human enzyme copper-zinc superoxide dismutase, another potent antioxidant.*

• Magnesium: An essential nutrient required for many biologic functions, including over 300 enzymatic reactions. Magnesium is essential for every major biological process. It is necessary for the metabolism of glucose, production of cellular energy, and the synthesis of nucleic acids and proteins.* Magnesium's role in cellular reproduction is key in maintaining proper levels of immune-related cells.* It is also vital for proper calcium use by the body.*
The Goodness of Fruit & Vegetable Extracts
• Apple • Broccoli • Blueberry • Lemon • Orange

These additional fruit extracts provide natural sources of
vitamins and minerals
and are important sources of
antioxidants.
Antioxidants help support your cells from the damage of free radicals.*
What About Sugar, Gluten, Dairy, Soy or Sweeteners?
• Less than 1 gram of sugar (from natural berries)
• No Gluten. No Lactose. No Soy. No Dairy.
• No Artificial Flavors, Colors or Sweeteners
WE MAKE OUR OWN



• It's important to know who and where your products come from!
• Made in Minnesota.
• Eniva products are USA produced.
• We manufacture onsite at our own certified manufacturing facility in Minnesota.
• For nearly 25 years, we've been delivering premium quality supplements to millions of people.
OUR PROMISE TO YOU
SAFETY - QUALITY - EFFECTIVENESS
• We care about your experience.
• If a customer is not pleased with any product purchase, we will offer a refund or exchange.
• All products are refundable/exchangeable within 30 days of purchase.
• We are committed to providing outstanding customer care for you.
* This statement has not been evaluated by the Food and Drug Administration. This product is not intended to diagnose, treat, cure, or prevent any disease.
ELDERBERRY All-In-One EXTRA-STRENGTH FORMULA: Over 40,000mg per 16oz bottle. The power of Sambucus Elderberry combined with Organic Honey, VitC, Zinc, Echinacea, Green Tea, Blueberries, Aronia Berries, Oranges, Cranberries, Broccoli, VitD and more.

PLANT BASED SUPPLEMENT: Great-tasting elderberry sambucus cold-blended with 16 plant sources for daily immune health. Safe and effective for everyday use throughout the year.

DAILY IMMUNE HEALTH WITH ANTIOXIDANTS PLUS ZINC: Includes 500% RDA VitC, 100% RDA VitD, plus Ionic Zinc. No artificial flavors, colors or sweeteners.

MADE IN USA AT THE ENIVA CERTIFIED FACILITY. Our products are gluten free, soy free, dairy free, vegetarian, purity-tested and DOCTOR FORMULATED.

MAXIMUM VALUE: Over 40,000mg of immune nutrients per 16oz bottle (over 2,500mg per serving). Compare to other brands for the health of your family. Satisfaction Guaranteed.
Cold Buster* (16 oz)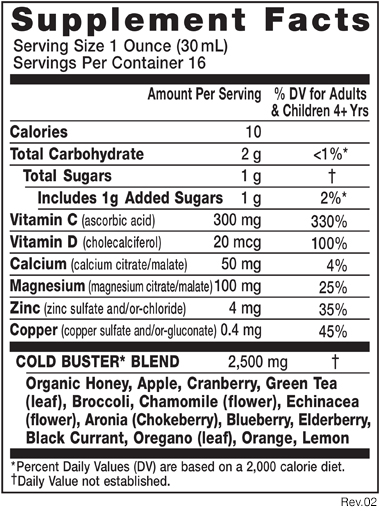 Other Ingredients: Purified water, malic acid, citric acid, natural flavors, xanthan and/or guar gum, organic stevia leaf extract, sodium benzoate and potassium sorbate (protect freshness).
• Liquid Fast
• Gluten Free
• Vegan
• No Artificial Flavors
• No Artificial Colors
• No Artificial Sweeteners
Directions:
Adults: 1-2 servings daily.
Children 4+ Years: 1/2 -1 serving daily.
May use ingredients with hot tea.
Combine with water or juice.
Storage: Avoid excessive heat. Best if refrigerated after opening.
Caution: Do not consume if tamper resistant seal is broken or missing. Do not consume if allergic to ingredients. As with all dietary supplements, contact your doctor before use. If taking prescriptions, have an ongoing medical condition, pregnant, nursing or under age 18, consult doctor before use. KEEP CAP TIGHTLY CLOSED. KEEP OUT OF REACH OF CHILDREN.