Eniva Minerals for Life® VanChroZin® Liquid Concentrate is a dietary supplement of Cell-Ready® minerals VANADIUM, CHROMIUM and ZINC in a proprietary nutrient delivery system.
VanChroZin Helps to Support:
• Healthy and normal blood glucose levels*
• Weight management*
• Normal fertility*
• Healthy and normal growth*
• Healthy sugar levels in the body*
• Cardiovascular health*
• Healthy lipids*
VanChroZin (symbol "VCZ") is a specialized liquid minerals combination of vanadium, zinc, and chromium supplements designed to help promote healthy sugar balance for enhanced health and vitality.* Both chromium and vanadium are very special minerals because they activate enzymes associated with sugar balance in the body. Zinc is a mineral that assists with the body's normal processing, storage and secretion of insulin.*
Van Chro Zin is not a picolinate or a gluconate. It is simply pure natural minerals and pure water.
Solutomic®:
An aqueous, submicron form of mineral ions in pure water for enhanced absorption and body use.
The purer the water the more efficiently minerals are activated into their electrically charged ionic state. Eniva uses OHM® water (multi-step purified water) in our liquid vitamins and minerals in a unique proprietary process at Eniva's government-inspected manufacturing facility, yielding an advanced aqueous form of copper ions (Solutomic) in sparkling clear solution for quicker absorption than tablets or capsules which must first dissolve in the digestive system before being absorbed.
Aqueous Stabilization™:
Eniva's liquid proprietary nutrient stabilization process.
Scientific References:
Data on file, Eniva Corporation, 2015.
---
* This statement has not been evaluated by the Food and Drug Administration. This product is not intended to diagnose, treat, cure, or prevent any disease.
VanChroZin Concentrated Liquid Minerals (16 oz)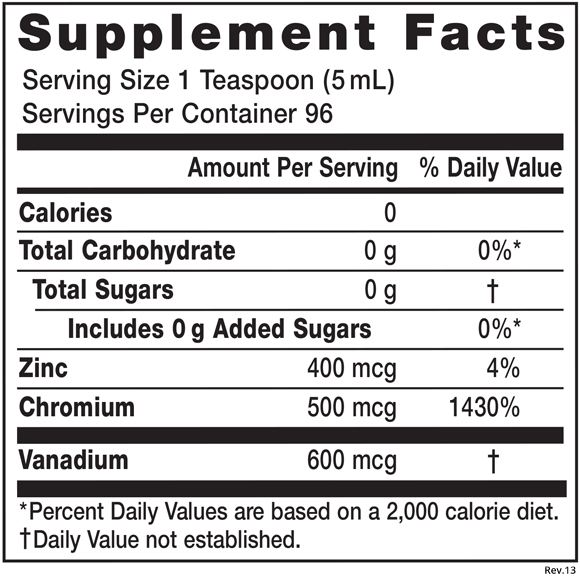 Ingredients: Purified water, vanadium (from vanadyl sulfate), chromium (from chromium chloride), zinc (from zinc sulfate).
• Gluten, Soy & Dairy Free
• Non GMO
• Zero Sugar & Zero Carbs
• Vegan
• No Artificial Colors, Flavors or Sweeteners
• BPA Free Bottle
Directions: Adults:
• For General Support: 1 Teaspoon daily (5 mL).
• For Nutrition of Sugar Metabolism: 1 Teaspoon two times per day before two largest meals.
Shake well before using.
Mix with 8 ounces of liquid.
Storage:
Avoid excessive heat.
Refrigerate after opening.
Caution: Do not consume if tamper resistant seal is broken or missing. Do not consume if allergic to ingredients. As with all dietary supplements, contact your doctor before use. If taking prescriptions, have an ongoing medical condition, pregnant, nursing or under age 18, consult doctor before use.
KEEP CAP TIGHTLY CLOSED.
KEEP OUT OF REACH OF CHILDREN.