Gourmet Oils for Healthy Cooking*
PURE INGREDIENTS


Cold pressed Omega 9 Oils from avocado and safflower
Eniva's Heart Healthy ALL—NATURAL Gourmet Cooking Oil is Great for Baking, Grilling and Cooking!
HEART HEALTHY COOKING OIL
Taste the goodness. Skip the unhealthy fats.
Heart Healthy Cooking Oil is a premium blend of hexane-free, cold-pressed avocado and safflower oils, with a clean, delicate flavor that doesn't interfere with the flavor of food. Heart Healthy Cooking Oil is exquisitely blended for taste and health.
It is loaded with stable omega fatty acids that contribute to good health, similar to olive oil, so prominent in the healthy Mediterranean diet, without the taste of olive oil. The healthy fatty acids in this product support the body's own efforts at heart health, lipid profiles, brain function and hormonal balance.*
HEART SMART CARDIOVASCULAR CARE*
Regular use of Eniva Heart Healthy Cooking Oil. May Reduce the Risk of Heart Disease due to its specialized high content of the Omega 9 Oleic nutrient.**
ESSENTIAL FATTY ACIDS SUPPORT

Metabolism and aid in proper body weight*

Cardiovascular system*

Brain / Neurological systems*

Hormonal balance

Skin and nails*

Vision*

Joints*

Immune function*

Utilization of antioxidants*
IT'S THE "GOOD FOR YOU" OIL
Heart Healthy Cooking Oil is a healthy cooking oil composed of roughly 85% healthy monounsaturated and cis-cis polyunsaturated fats.
It is approximately 75% oleic acid (a monounsaturated omega 9 fatty acid). EFAs contribute to good health, similar to olive oil, but without the strong taste of olive oil. It actually brings out the wonderful flavor of the food it's being cooked with.
Omega 9 also contains naturally occurring vitamin E. It has no cholesterol and is highly stable when heated – compared to polyunsaturated oils which degrade faster with heat.
TASTY RECIPES
Here are a fun recipes for summer healthy eating. Get grilling, and enjoy "fresh from the garden" veggies with the goodness of omega oils!
---
TERIYAKI CHICKEN
Prep Time: 10 minutes • Servings: Four (½ pound per person)
2 lbs chicken breast

½ cup Eniva Heart Healthy Cooking Oil

¼ cup soy sauce (use low salt version if possible)

¼ cup low-sugar maple syrup or favorite low-sugar liquid sweetener

1 tsp flour

1 tsp ground ginger

2 cloves garlic, minced
– Combine chicken and other ingredients in a freezer bag.
– Marinate for up to two days in the fridge or indefinitely in the freezer.
– When ready to use if previously frozen, defrost overnight in the fridge.
– Grill by cooking each side for 6-8 minutes; total cooking time 12-16 minutes.
---
EASY VEGETABLE KEBABS
Prep Time: 20 min • Servings: 4
2 cups onion - 1 inch segments

2 cups peppers - 1.5 inch squares

2 cups mushrooms - whole

2 cups zucchini - 1 inch circles

⅓ cup balsamic vinegar

⅓ cup Eniva Heart Healthy Cooking Oil

¼ tsp salt

½ tsp pepper

½ tsp garlic powder

½ tsp onion powder

¼ tsp dried basil

¼ tsp dried parsley
– Wash and chop vegetables. In a bowl, combine oil, vinegar, and herbs/spices to make a marinade.
– In a plastic bag combine vegetables and marinade, allowing ingredients to soak between ten minutes and one hour.
– Heat grill to around 375 degrees and add vegetables to skewers.
– Cook vegetable skewers on the grill for 9-10 minutes, then flip and cook for an additional 5-6 minutes.
---
*This statement has not been evaluated by the Food and Drug Administration. This product is not intended to diagnose, treat, cure, or prevent any disease.
**Supportive but not conclusive scientific evidence suggests that daily consumption of about 1 ½ tablespoons (20g) of oils containing high levels of oleic acid (at least 70%), may reduce the risk of heart disease as compared to other cooking oils.
Heart Healthy Gourmet Cooking Oil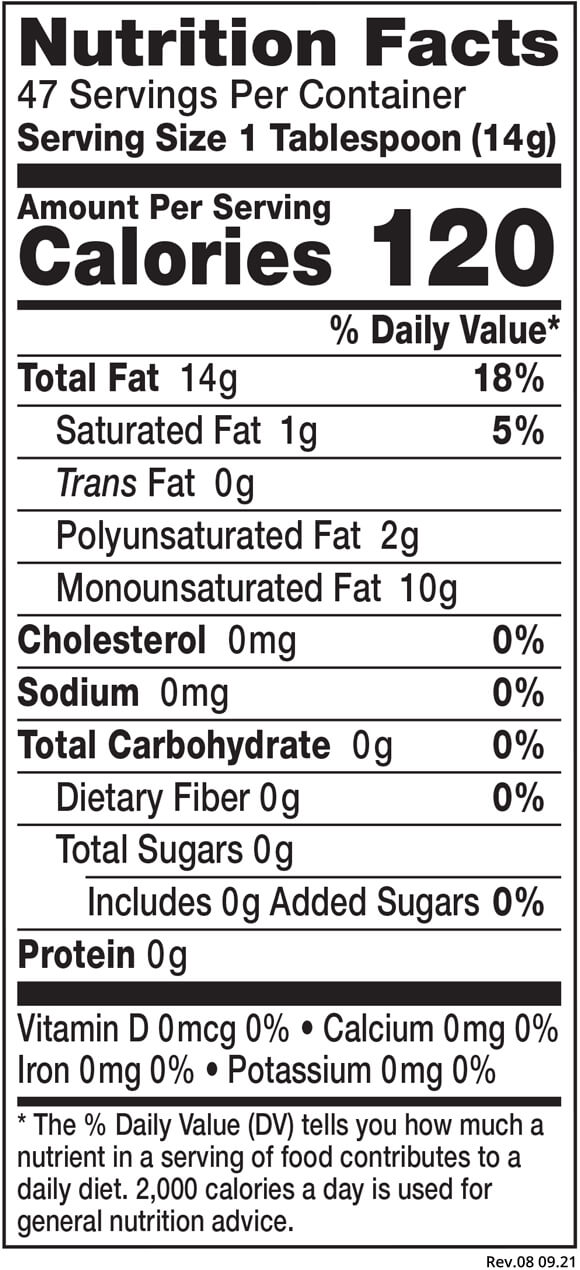 Ingredients: Pressed high oleic safflower oil, pressed avocado oil.
• High Smoke Point Stability† 537 ºF (approximate) 
• Over 75% Oleic Acid 
• Gluten Free 
• Hexane Free 
• No Artificial Flavors 
• No Artificial Colors 
• Diabetic Friendly 
• Vegan
Usage: Excellent for baking, sautéing, grilling and deep frying.
To prevent oil spattering, wipe excessive water from food before adding to hot oil.
Wear eye protection.
Avoid excessive heating of oil.
Note: When oil is refrigerated, it may turn cloudy due to the cold temperature. It will turn clear when it is brought to room temperature.

Caution: Do not consume if tamper resistant seal is broken or missing.