Product Description
NEW and IMPROVED: FLEX EXTRA STRENGTH... FLEX ES !
Always striving to bring you the best nutritional supplements available, our FLEX is now FLEX ES – FLEX Extra Strength.
• Now with 1200 mg Chondroitin
• Now with 2500 mg Glucosamine
• Now with Hyaluronic Acid
• Now with Beet Root
• Now with a Great Berry Taste
Eniva® Full Spectrum Flex ES® Liquid Joint Support provides powerful ingredients shown to support joint function.* Generous amounts of liquid Glucosamine, Chondroitin, MSM, Collagen Type 2, Beet Root, Hyaluronic Acid, White Willow Extract, and Pineapple Juice help support joints.*
Liquid Joint Support:

• Collagen Type 2 is essential for joint structure.*
• Glucosamine is an important building block needed by the body to manufacture specialized components called glycosaminoglycans.*
• MSM contributes sulfur for protein synthesis and enzyme function to support joints.*
• Chondroitin is a major constituent for normal joint structure.*
• Hyaluronic Acid helps provide lubrication for the spaces between bones*
• Beet Root contains anthocyanins which help contribute toward a comfortable environment for joints*
The Eniva Flex ES active ingredients work in synergy to create a safe and complementary combination to help you stay active and healthy.*
NOTE: Packaging May Vary
Aqueous Stabilization™:
Eniva's liquid proprietary nutrient stabilization process.
Scientific References:
Data on file, Eniva Corporation, 2019.
---
*These statements have not been evaluated by the Food and Drug Administration. This product is not intended to diagnose, treat, cure, or prevent any disease.
Nutrition Facts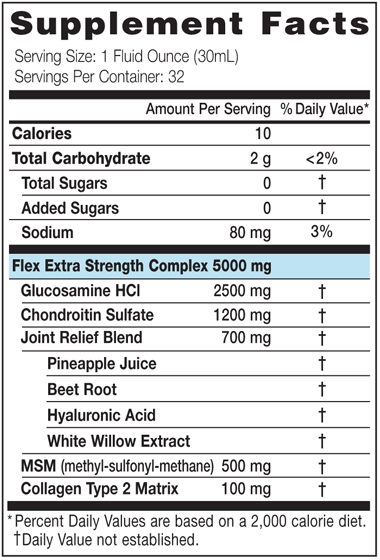 Other Ingredients: Purified water, citric acid, natural flavors, sorbic and/or benzoic acids (protect freshness), stevia, monk fruit, xanthan gum.
• Soy Free
• Gluten Free
• Sugar Free
• Non GMO
• No Artificial Flavors
• No Artificial Colors
• No Artificial Sweeteners
• Diabetic Friendly
• Cold Processed
• No Irradiation
• No Pasteurization

Directions: Adults
LOADING: 1 serving twice daily for 2 weeks.
MAINTENANCE: 1 serving daily.
Shake well. May combine with 8 ounces liquid.
STORAGE: Avoid excessive heat. Refrigerate after opening.
ALLERGEN: Shellfish
CAUTION: Do not consume if seal is broken or missing. Do not consume if allergic to ingredients. As with all dietary supplements, contact your doctor before use and also if taking prescriptions, have ongoing medical conditions, pregnant, nursing or under age 18. Isolated minerals or nutrients are best taken as part of a well balanced diet and broad supplement program. KEEP CAP TIGHTLY CLOSED. KEEP OUT OF REACH OF CHILDREN.
Find Similar Products by Tag
Find Similar Products by Category
Customers also viewed