Eniva Cares! Temporary Price Reduction: Liquid Zinc now at "Sale Pricing" to help Families Stay Healthy
Eniva® Full Spectrum™ Vitamin C Liquid Concentrate provides the essential human nutrient of Vitamin C in concentrated liquid form. And, the natural ORANGE TASTE is fantastic! This fast-acting, liquid formula contains Vitamin C from a blend of sources, including whole food based components. The Full Spectrum combination supports the body's general health and vital immune functions.*
The Next Generation of Liquid Vitamin C Supplement
– A whole food based philosophy providing Full Spectrum sources of Vitamin C and natural nutrient cofactors, along with isolated Vitamin C nutrient components.
– Just the way Mother Nature intended! Powerful 300 mg per serving (500% of RDA).
Various Sources of Vitamin C:
• Acerola Berry Extract
• Rosemary Extract
• Cranberries
• Orange Extract
• Citrus Bioflavonoids
Delicious Natural Orange Citrus Flavor
– The new and all-natural Orange Citrus taste is sure to be a pleaser.
Eniva Quality
– Non-GMO, gluten free, no artificial colors, no sugar and environmentally friendly!
– Each product bears the Eniva Nutraceutics Quality Certified stamp.
Vitamin C Full Spectrum Biodynamix Blend
• Provides Vitamin C from Nature Based Sources
• Nutrient Cofactors to Help Vitamin C Work Better
• Specialized Nature Based Components for Stabilizing Vitamin C in Solution
Powders and tablets are not bioavailable. Eniva Nutraceutics Full-spectrum Liquid Vitamin C offers liquid fast results with rapid absorption and bioavailability.*
• Powerful nature based formula
• Great natural taste
• New bottle and label
Every cupboard should have Eniva's Full Spectrum Liquid Vitamin C when the body needs additional Immune nutrients to help the body stay strong.* Each serving contains 300 mg of concentrated, high potency, easily and quickly absorbed LIQUID Vitamin C.
Did you know… Vitamin C is great for JOINTS!* It supports healthy collagen and joint movement.* If you are taking Eniva joint products, try adding a daily dose of Eniva Full Spectrum Vitamin C!
• Some scientific evidence suggests that consumption of antioxidant vitamins, such as Vitamin C, may reduce the risk of certain forms of cancer. However, FDA has determined that this evidence is limited and not conclusive.*
Aqueous Stabilization™: Eniva's liquid proprietary nutrient stabilization process.
Scientific References: Data on file, Eniva Corporation, 2015.
---
* This statement has not been evaluated by the Food and Drug Administration. This product is not intended to diagnose, treat, cure, or prevent any disease.
Is a fast-absorbing, aqueous formula containing Vitamin C from a blend of sources, including whole food based components. It supports the body's general health and its many vital immune functions.

Contains Sources of Vitamin C and natural nutrient cofactors - the way Mother Nature intended. The potent formula has a pleasing natural orange taste, and its liquid design makes it easy to swallow.

Essential nutrients help support antioxidant activity. As it contains the antioxidant Vitamin C, Vitamin C Complex's proprietary, advanced aqueous nutrient delivery system provides fast absorption.

Various Sources of Vitamin C: Acerola Berry Extract Rosemary Extract Cranberries Orange Extract Citrus Bioflavonoids.

Provides Vitamin C from Natural Based Sources Nutrient Cofactors to Help Vitamin C Work Better Specialized Natural Components for Stabilizing Vitamin C in Solution.
Liquid Vitamin C High Potency Antioxidant - Concentrate (16 oz)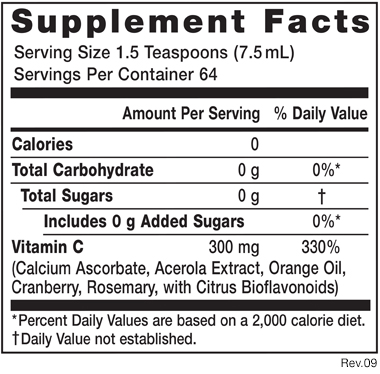 Ingredients: Purified water, natural flavors, sorbic and/or benzoic acid(s) (protect freshness), organic stevia leaf extract, malic acid, xanthan and/or guaran.
• Gluten, Soy & Dairy Free
• Non GMO
• Vegan
• Zero Sugar & Zero Carbs
• Diabetic Friendly
• No Artificial Colors
• No Artificial Flavors
• No Artificial Sweeteners
Directions:
Adults: 1.5 teaspoons daily.
Children 4 -14 years: 1/2 teaspoon daily.
Shake well before using.
Combine with water or juice.
Storage: Avoid excessive heat. Refrigerate after opening.
Caution: Do not consume if tamper resistant seal is broken or missing. Do not consume if allergic to components in product. As with all dietary supplements, contact your doctor before use. If taking prescriptions, have an ongoing medical condition, pregnant, nursing or under age 14, consult doctor before use. KEEP CAP TIGHTLY CLOSED. KEEP OUT OF REACH OF CHILDREN.