Product Description
Eniva Natural Sleep™ Liquid Formula is a natural sleep aid that provides a safe, natural and effective liquid formula for healthy sleep.* This fast-acting liquid sleep supplement contains specialized natural nutrients to support the entire sleep cycle. Sleep Support is 100% natural, non-addictive and non-habit forming sleep supplement.*
Benefits of Eniva Natural Sleep:
• Contains scientifically validated natural nutrients to support the ENTIRE sleep cycle* including: Valerian Extract, L-Theanine, Melatonin, Chamomile, Vit D, Passion Flower and much more
• Goes to work FAST and stays at work ALL-NIGHT long*
• Is 100% NATURAL, NON-ADDICTIVE, and NON-HABIT forming
• Has a GREAT TASTE
Did you know?
1 out of 3 Americans have diagnosed sleep disorders and 1 out of 2 Americans have disturbed sleep. While natural sleep aids are exploding, most are ineffective. Eniva Natural Sleep represents the very finest in nutraceutical innovation for providing natural sleep support ingredients in liquid form. Liquid formulations are regarded as providing higher rates of absorption and effectiveness.
Natural Sleep Proprietary Blend:
• Melatonin
• L-Theanine
• Valerian Extract
• Chamomile Flower Extract
• Passion Flower Extract
• Lemon Balm Extract
• Aloe Vera Gel
• Ashwagandha
Aqueous Stabilization™: Eniva's liquid proprietary nutrient stabilization process.
Scientific References: Data on file, Eniva Corporation, 2017.
---
*These statements have not been evaluated by the Food and Drug Administration. This product is not intended to diagnose, treat, cure, or prevent any disease.
Nutrition Facts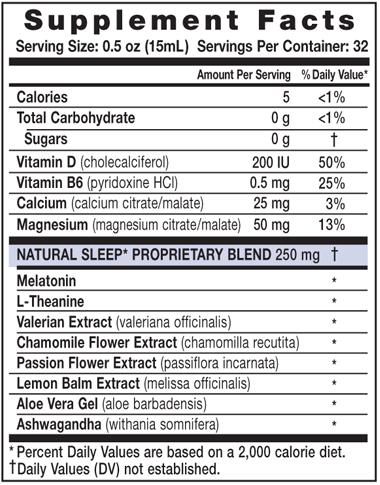 Other Ingredients: Purified water, citric acid, malic acid, natural flavors, sorbic and/or benzoic acid(s) [protects freshness], xanthan and/or guar gum, stevia leaf extract.
• No Artificial Colors or Flavors
• Gluten Free
• Diabetic Friendly
• Vegetarian Friendly
• No Fish Ingredients
• Lactose Free
• No Irradiation
• No Pasteurization
• Cold Processed

Directions: Adults: Take 30 minutes before bed. Dosing: Take 1-2 servings per night as needed. Shake well before using.

Recommendations: May combine with 8 ounces of water / juice.

Storage Directions: Avoid freezing and heat. Refrigerate upon receipt and after opening.

Caution: Do not consume if tamper resistant seal is broken/missing. Do not consume if allergic to any components found within product. As with all dietary supplements, contact your doctor before use. If taking prescription medications, have an ongoing medical condition, are pregnant, nursing or under age 18, consult doctor before use. Isolated minerals or nutrients are best taken as part of a well balanced diet and broad supplement program. KEEP CAP TIGHTLY CLOSED. KEEP OUT OF REACH OF CHILDREN.
Find Similar Products by Category
Customers also viewed