Eniva Vascular Advantage
Blood Flow • Energy • Vessel Health*
Eniva Vascular Advantage® L-Arginine & Nitric Oxide Formula* is a great-tasting nutraceutical product designed to aid in the normal health of the cardiovascular system. Vascular Advantage is a specialized formulation of 5500mg of free form L-Arginine plus the addition of a proprietary blend of 9 different amino acids and antioxidants. It supports nitric oxide production, vascular integrity, lean muscle mass development and enhanced performance.*
• Blood vessel health and integrity.*
• Healthy intimate function in both men and women.*
• Healthy energy levels.*
• Natural growth hormone production and lean muscle mass development.*
• A healthy cardiovascular system.*
• Potent L-Arginine and L-Citrulline to aid in normal nitric oxide production.*
High-Potency L-Arginine Blood Vessel Health Formula
Nitric oxide is the key regulatory molecule for circulation and arousal, as well as plays a role in multiple immunologic and physiologic body processes to maintain healthy living and energy.* Research indicates L-Arginine and L-Citrulline help support the production of nitric oxide*.
Eniva Vascular Advantage contains the following:
L-Arginine: Critical precursor amino acid needed for nitric oxide production.*
L-Citrulline: An amino acid that recycles partially used L-Arginine for continued nitric oxide production.*
Vitamin C: A vitamin critical for the structural integrity of blood vessels, as well as a potent antioxidant.*
A4 Proprietary Blend: An adjuvant amino acid and antioxidant combination designed for formula stability and to provide additional pathway benefits of lean muscle mass, energy and growth hormone enhancement.*
WE MAKE OUR OWN



• It's important to know who and where your products come from!
• Made in Minnesota.
• Eniva products are USA produced.
• We manufacture onsite at our own certified manufacturing facility in Minnesota.
• For nearly 25 years, we've been delivering premium quality supplements to millions of people.
OUR PROMISE TO YOU
SAFETY - QUALITY - EFFECTIVENESS
• We care about your experience.
• If a customer is not pleased with any product purchase, we will offer a refund or exchange.
• All products are refundable/exchangeable within 30 days of purchase.
• We are committed to providing outstanding customer care for you.
*This statement has not been evaluated by the Food and Drug Administration. This product is not intended to diagnose, treat, cure, or prevent any disease.
EXTRA STRENGTH (13.6 oz): 6,950mg Power Amino Blend per serving, including 5500mg of L-Arginine and 250mg of L-Citruline.

Supports NITRIC OXIDE production, Power, Strength, Muscle Development, Circulation, Intimate Health and Cardiovascular Health.

PRE WORKOUT BLEND contains proprietary Amino formula of L-Arginine, L-Citruline, L-Isoleucine, L-Leucine, L-Valine, L-Omithine, L-Proline, Gamma Oryzanol and Transferulic Acid.

Supports healthy intimate function in both men and women.

Doctor Formulated. Made in the USA.
---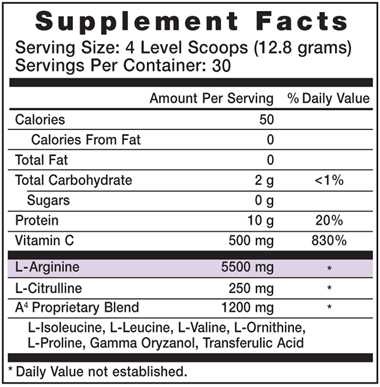 Other Ingredients: Malic acid, natural flavor (mixed berry), chicory root extract, citric acid, ascorbic acid, silica (as silcon dioxide), stevia leaf extract.
• Gluten Free
• Diabetic Friendly
• Zero Sugar
• Cardiac Friendly

• No Artificial Colors or Flavors
• Vegan & Vegetarian Friendly
• No Fish Ingredients
• Cold Processed
• No Irradiation
• No Pasteurization
Directions: Adults: 4 Scoops Daily. (2 Scoops in AM and 2 Scoops in PM.) Dilute in 12-16 ounces of water. Take on an empty stomach. Do not consume with food.
Storage Directions: Avoid freezing and heat.
CAUTION: Do not consume if tamper resistant seal is broken/missing. Do not consume if allergic to components found within product. As with all dietary supplements, contact your doctor before use. If taking prescription medications, have an ongoing medical condition, are pregnant, nursing or under age 18, consult doctor before use. Not for use by persons with brain or ocular herpes, prostate cancer, or those with Wilson's Disease (genetic copper disorder). Isolated vitamins or nutrients are best taken as part of a well balanced diet and broad supplement program. KEEP CAP TIGHTLY CLOSED. KEEP OUT OF REACH OF CHILDREN.