Product Description
Eniva® LifeCleanse is a unique, natural fiber and herbal supplement that provides for easy, gentle elimination and digestive cleansing.
Many people know that a periodic body detox and cleanse can be very beneficial. It helps to rejuvenate your energy levels, weight management, hormones, skin, digestion and overall body balance.*
LifeCleanse Helps to Support:
• Colon health*
• Digestive tract detox*
• Liver detox*
• Internal conditioner*
• Healthy intestinal bacteria*
• Blood sugar levels already in a normal range*
LifeCleanse is an excellent source of fiber.

• Diets rich in whole grain foods and other plant foods, and low in saturated fat and cholesterol, may help reduce the risk of heart disease.*
• Low-fat diets rich in fiber-containing grain products, fruits, and vegetables may reduce the risk of some types of cancer, a disease associated with many factors.*
• Fiber has also been shown to help slow the body's breakdown of carbohydrates and the absorption of sugar, helping with blood sugar balance. According to the Institute of Medicine, women need 25 grams of fiber per day, and men need 38 grams per day, and the average person only consumes 15 grams per day.Eniva LifeCleanse contains fiber that can facilitate proper sugar assimilation in the body, as well as maintain proper colon health.*
- Eniva's LifeCleanse contains 12 grams of fiber per serving, helping to fill "nutritional gaps" in the diet.
– Flavor is a fruity, sweet cinammon taste.
– Contents are a brownish gray powder.
– LifeCleanse goes well with apple juice. It is quite pleasant even in straight water.
– 10 servings per cannister, which includes a plastic scoop.
EVERYONE can benefit from this product, NOT just weight loss users!
NOTE: Eniva also offers a TOTAL BODY DETOX PACKAGE that includes 4 Products (• LifeCleanse, •VIBE Fruit Sensation, • Bio-Chlor, • Muscle Aid) with Instructions and Guide Learn More >
• Drop pounds and Drop the Lethargic Feeling* – Impacted fecal matter in your colon – due to years of accumulated waste – can cause you to be carrying extra pounds. It may also make you feel sluggish and slow. A Cleanse can work to sweep the waste matter away, plus it helps rid the body of toxins, giving you a renewed sense of energy.* People report being pounds lighter, and find they have higher energy levels after they finish a Detox and Cleanse cycle. Other forms of unwanted material trapped in the liver, gallbladder and intestines may also pass out of the body during a cleanse.*

• You Can Be a Stronger Fighter* – A Cleanse can help your body clean toxins from organs and systems. It can also help keep bad bacteria in check, stopping it from producing toxins that damage the intestinal lining and get further absorbed into the bloodstream. This means you will have a better chance of staying healthy in the face of illness and immune challenges.* People who struggle with congestion, coughing, infections, fatigue, irritations, or occasional discomfort tend to see benefits from a Detox and Cleanse.*
LifeCleanse Restoring and Flavoring Herbs:
– Dandelion root
– Ginger root
– Stevia leaf
– Cinammon bark
– Clove bud
– Ginger root
LifeCleanse Cleansing Components:
– Fructooligosaccharide (from chicory root extract)
– Rice bran fibers, rice germ, guar gum, stabilized rice bran
– Milk thistle seed extract 300mg, (Silymarin, 80%, 240mg)

- Some of the ingredients function as carminatives, and others as anti-spasmodics to make this powerful cleanser's work as gentle as possible.
Scientific References: Data on file, Eniva Corporation, 2017.
---
* This statement has not been evaluated by the Food and Drug Administration. This product is not intended to diagnose, treat, cure, or prevent any disease.
Nutrition Facts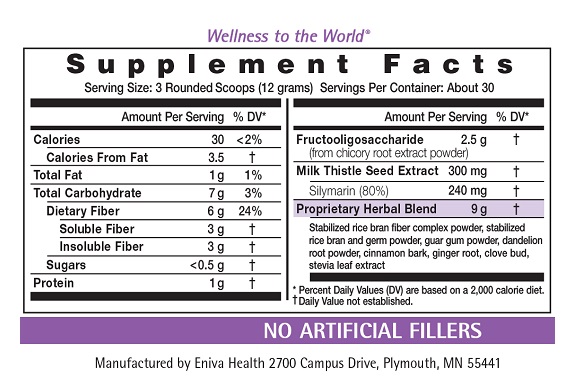 • No Artificial Colors or Flavors
• No Fillers
• Vegetarian Friendly
• No Fish Ingredients
• Gluten Free

Directions: Adults: Add 3 scoops/tablespoons to minimum 8 oz. of water. Consume 1 hour after the evening/last meal with plenty of liquid to prevent choking.
Recommendations of Use: Avoid taking at the exact time of day when medications or other Eniva nutritional products are consumed in order to prevent potential interference with absorption. Some individuals may find one tablespoon per day sufficient for bowel cleansing; may adjust dosage for personal preference.
Notice: This product should be consumed with at least 8 oz. of water. Taking this product without enough liquid may cause choking. Do not consume this product if you have difficulty swallowing.
Storage Directions: Keep in a dry place with cap tightly closed at all times. Avoid freezing or excessive heat.
CAUTION: Do not consume if tamper resistant seal is broken/missing. Do not consume if allergic to components found within product, if abdominal pain, cramping, nausea, vomiting, or rectal bleeding are present, if any obstructions are present in the digestive or eliminative tract (e.g. gall stones, lack of bowel movement), or urinary tract or if you have difficulty swallowing. Discontinue or reduce if stool becomes excessively loose or excessive gas is present. Consult your physician before starting this product if you have any health problems including blood sugar control problems. Do not use: If taking prescription medications, have an ongoing medical condition, are pregnant, nursing or under age 14. KEEP CAP TIGHTLY CLOSED. KEEP OUT OF REACH OF CHILDREN.
Find Similar Products by Category
Customers also viewed