Chlorophyll Liquid - Digestive Detoxifier (16 oz, 32 Servings)
Maximum Purchase:

25 units
Be Among the First to Leave a Review
ENIVA® LIQUID CHLOROPHYLL is a high potency blend of plant sourced chlorophyllin, copper and organic spearmint oil.
Cleansing, deodorizing and conditioning are important for body health and wellbeing.*
Be Among the First to Leave a Review
Chlorophyll+ Liquid Greens Complex (16 oz)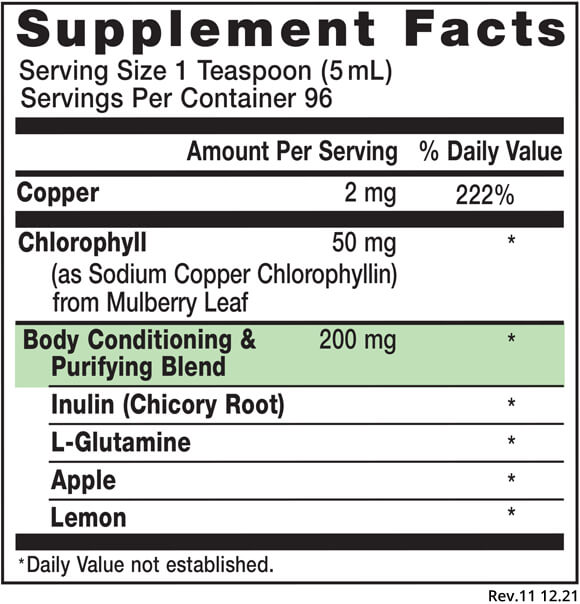 Other Ingredients: Purified water (multi-loop UV treated, deionized, microfiltered), malic acid, xanthan gum, sorbic and/or benzoic acid(s) (protect freshness), organic stevia leaf extract.
• Paraben Free & Alcohol Free
• Vegan
• Gluten, Soy & Lactose Free
• Non-GMO
• Zero Sugar & Zero Carbs
• No Artificial Colors, Flavors or Sweeteners
• BPA Free Bottle
Directions:
Adults: 1 Teaspoon daily (5 mL).
Mix with 8 ounces of liquid.
Shake bottle well before using.
• It is recommended to not exceed 3 Teaspoons daily.
Storage:
Avoid excessive heat.
Best if refrigerated after opening.
Caution: Do not consume if tamper resistant seal is broken or missing. Do not consume if allergic to ingredients, if you have Wilson's Disease or a copper processing abnormality. As with all dietary supplements, contact your doctor before use. If taking prescriptions, have an ongoing medical condition, pregnant, nursing or under age 18, consult doctor before use. KEEP CAP TIGHTLY CLOSED. KEEP OUT OF REACH OF CHILDREN.