Product Description

Eniva® VIBE® Fruit Sensation – Daily Multi – Antioxidant, Mineral, Vitamin & Whole Food Supplement
Full Spectrum™ Nutrition & DNA Support*
Eniva VIBE Fruit Sensation is a clinically studied, nature-based liquid multivitamin delivering potent antioxidants and essential daily nourishment in a fast acting, bio-ready liquid design. Its full spectrum formula incorporates a concentrated combination of daily vitamins carefully selected antioxidants, minerals, vitamins and amino acids along with fruit, vegetable and specialized phytonutrient ingredients for healthy living, antioxidant strenght and DNA support.* – It's the liquid supplements your body needs for lasting vibrant health.*

VIBE Fruit Sensation - Cellular Defense Formula
VIBE provides a nutritional foundation of liquid multivitamins specifically formulated with your heart in mind! The natural flavor of the daily vitamins is a pleasing treat that gets you moving! The heart focused liquid supplements formula is validated with RDA nutrients, concentrated fruit, vegetable and aloe vera extracts, as well as a specialized and decaffeinated green tea EGCG catechin complex. This formula incorporates the many benefits of the VIBE Original formula, with a few special additions:
• Increased Magnesium
• Enhanced AntiOX Fruit and Vegetable Blend
• Increased Niacin (Vitamin B3)
• Increased Natural Vitamin D
• Enhanced Synergistic Green Tea Combination
Benefits of VIBE Fruit Sensation:
• Heart health focused - high-potency antioxidants
•Decaffeinated EGCG green tea complex
•Contains the cellular defense formula
•Research studies supported
• Contains the heart-healthy ingredients D-Ribose, CoQ10, L-Carnitine, Malic Acid, Isolated Soly Lecithin, Mixed Tocopherols (family of Vitamin E compounds)

Advanced Nutrient Matrix for Cellular Nourishment & Defense
Your body depends on you to provide it with daily nourishment. Because of challenges with the modern diet, scientists and clinicians now recommend that individuals consume a high quality, daily multi-nutrient supplement to help meet nutritional recommendations. Stated on each VIBE bottle are validated nutrient amounts that provide a balanced amount of recognized essential nutrients to work with your diet to help keep you healthy... an outstanding formula to help you nourish your body every day.*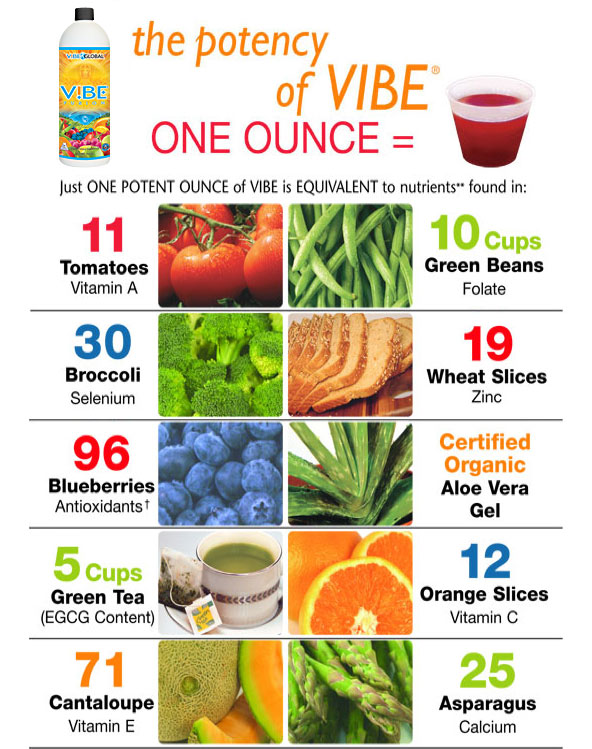 VIBE Combines FOUR Specialized Nutritional Blends into ONE Easy-to Use Formula:
•SoluMAX® — Immune Health*
•AntiOX2® — Healthy Aging*
•HeartPRO® — Cardiovascular*
•CollaMAX® — Cellular Health*

Whole Body Nutrition
VIBE promotes enhanced absorption and bioavailability of pharmaceutical and food-grade natural nutrients to support healthy function of the human body.*

What VIBE Doesn't Have:
Out of respect for current research and the safety of VIBE® users, there are certain ingredients Eniva® has chosen not to include in the VIBE® formulations:
• No Vitamin K: For those on blood-thinners
• No Iron: For men and women with cardiovascular issues
• No Excessive Vitamin A: For aging women with compromised bones
• No artificial flavors, colorants, dyes or sweeteners
• No Mangosteen Fruit: For concern of chronic exposure to alpha-mangostin, a xanthone that could be toxic to mitochondrial function, leading to impairment of cellular respiration and production of lactic acidosis. Reference: Wong LP, Klemmer PJ. Severe lactic acidosis associated with juice of the mangosteen fruit, Garcinia mangostana Am J Kidney Dis 51:829-3, 2008.
Doctor Formulated • Clinically Tested
Eniva® VIBE® Fruit Sensation is a specialized liquid nutraceutical manufactured in our own FDA approved facility to pharmaceutical standards of safety, quality and effectiveness. That means every ingredient we use are tested for ultra purity and potency. The unique synergistic production process, only used at Eniva, promotes highly enhanced absorption and bioavilability in your body unlike any other nutritional product today.
Aqueous Stabilization™: Eniva's liquid proprietary nutrient stabilization process.
Scientific References: Data on file, Eniva Corporation, 2017.
---
* This statement has not been evaluated by the Food and Drug Administration. This product is not intended to diagnose, treat, cure, or prevent any disease.
Nutrition Facts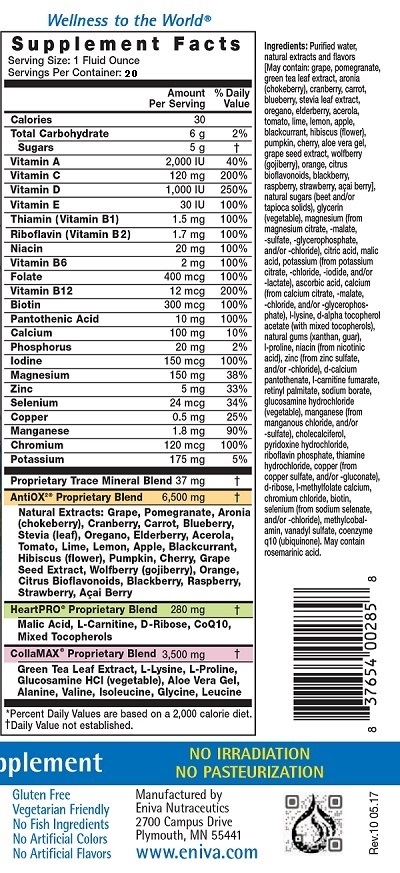 Ingredients: Purified water, natural extracts and flavors [May contain: grape, pomegranate, green tea leaf extract, aronia (chokeberry), cranberry, carrot, blueberry, stevia leaf extract, oregano, elderberry, acerola, tomato, lime, lemon, apple, blackcurrant, hibiscus (flower), pumpkin, cherry, aloe vera gel, grape seed extract, wolfberry (gojiberry), orange, citrus bioflavonoids, blackberry, raspberry, strawberry, açai berry], natural sugars (beet and molasses), glycerin (vegetable), magnesium (from magnesium citrate, -malate, -sulfate, -glycerophosphate, and/or -chloride), citric acid, malic acid, potassium (from potassium citrate, -chloride, -iodide, and/or -lactate), ascorbic acid, calcium (from calcium citrate, -malate, -chloride, and/or - glycerophosphate), l-lysine, natural gums (xanthan, guar, arabic), d-alpha tocopherol acetate (with mixed tocopherols), l-proline, niacin (from nicotinic cid), zinc (from zinc sulfate, and/or -chloride), d-calcium pantothenate, l-carnitine fumarate, retinyl palmitate, boron (from sodium borate), folic acid, glucosamine hydrochloride (vegetable), manganese, (from manganous chloride, and/or -sulfate), cholecalciferol, pyridoxine hydrochloride, riboflavin phosphate, thiamine hydrochloride, copper (from copper sulfate, and/or -gluconate), isolated soy lecithin, chromium (from chromium chloride), biotin, selenium (from sodium selenate, and/or -chloride), n-methyl cobalamin, vanadium (from vanadyl sulfate), coenzyme q10 (ubiquinone). May contain rosemarinic acid.
COLD PROCESSED
WHOLE FOOD SOURCE
• No Artificial Colors or Flavors
• Gluten Free
• Vegetarian Friendly
• No Fish Ingredients
• Lactose Free
• No Irradiation
• No Pasteurization
• It is normal with natural extracts and ingredients that some settling may occur.
Directions: For best results:
– Shake well before use.
– Combine with 8 ounces water/juice.
– Split dose evenly between am/pm hours.
Adults: 1 ounce daily.
Children 14+: 1 ounce daily.
Pregnant/Lactating Women: Contact your doctor before use.
Storage Directions: Avoid freezing and heat. Keep refrigerated upon receipt and after opening.
• After opening, consume within 40 days.
Recommendations: As with all dietary supplements, contact your doctor before use. If you are currently taking prescription medication, have an ongoing medical condition, are pregnant, nursing, or under the age of 14, you should consult your doctor before use.
Potential Risks: Do not consume if allergic to components within product. Although ENIVA VIBE is manufactured with safe ingredients, rarely, GI discomfort (nausea, stomachache, loosening of stool), mild skin rash, and/or headache, may arise. Should these occur, discontinue use. Some individuals may experience a mild skin redness/hot prickly feeling because of natural niacin in ENIVA VIBE ("niacin flush"). This is a normal reaction due to the expansion of capillaries in skin and should subside within 30 minutes.
Caution: Do not consume if tamper resistant seal is broken/missing. This product is not intended for children under 14 years of age. Isolated minerals or nutrients are best taken as part of a well balanced diet and broad supplement program. KEEP CAP TIGHTLY CLOSED. KEEP OUT OF REACH OF CHILDREN.
Find Similar Products by Category
Customers also viewed