Eniva Minerals for Life® Cell-Ready® Multi Minerals
Body Balance • Hydration • Wellbeing*
A concentrated liquid minerals supplement of a specialized mineral blend formulated to help promote nutritional balance.*
When the body goes out of balance, disease can set in. An excess or deficiency of minerals can create a disruption in healthy body function. It is not simply what is put into the body that affects health, but in what form and in what balance.
Cell-Ready Minerals has been formulated in an appropriate balance for enhanced absorption. It is important to realize that minerals are not static, but interact. These interactions can affect absorption if combined incorrectly with other nutrients and other minerals.
Clinical Recommendation: It has been clinically stated and supported by leading medical researchers that every adult should take a daily multiple supplement and whole food vitamins.
Eniva Cell-Ready Multi Minerals provide a complete and appropriate physiologic balance of minerals to meet this recommendation and provide a foundation for healthy living.* Cell-Ready Minerals utilize Eniva's proprietary Solutomic technology to provide advanced aqueous mineral nutrition, making it one of the best liquid vitamins on the market today.*
Solutomic®: Plants take solid mineral compounds from the soil and change them into a water-soluble, ionic and cell-ready form. Minerals from the soil are put into a form the human body can use.
WE MAKE OUR OWN



• It's important to know who and where your products come from!
• Made in Minnesota.
• Eniva products are USA produced.
• We manufacture onsite at our own certified manufacturing facility in Minnesota.
• For nearly 25 years, we've been delivering premium quality supplements to millions of people.
OUR PROMISE TO YOU
SAFETY - QUALITY - EFFECTIVENESS
• We care about your experience.
• If a customer is not pleased with any product purchase, we will offer a refund or exchange.
• All products are refundable/exchangeable within 30 days of purchase.
• We are committed to providing outstanding customer care for you.
*This statement has not been evaluated by the Food and Drug Administration. This product is not intended to diagnose, treat, cure, or prevent any disease.
Eniva Cell-Ready Multi Minerals is a concentrated, ionic liquid mineral dietary supplement blend designed to support internal mineral balance so the body functions well.

Its unique liquid mineral delivery system yields an advanced form of mineral ions in a clear solution for quicker absorption than tablets or capsules which must first dissolve in the digestive system.

Broad balance of minerals to provide a foundation for healthy living (32 oz). This allows the body to easily use these nutrients to make substances that are vital to many of the chemical reactions.

A supplement of a specialized mineral blend formulated to help promote nutritional balance. The proprietary delivery system yields an advanced aqueous form of mineral ions (Solutomic).

Directions: Adults: 2 ounces daily (60mL). Best if divided 30mL am and 30mL pm. Shake well before using. Recommendations: May combine with 8 ounces of water / juice.
Cell Ready Multi Minerals (32 oz) Flavored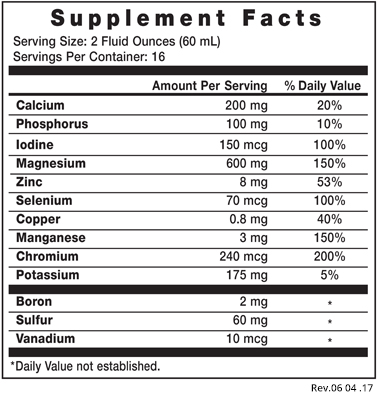 Other Ingredients: Purified water, magnesium (from magnesium citrate, and/or magnesium malate, and/or magnesium glycerophosphate, and/or magnesium chloride, and/or magnesium sulfate), malic acid, citric acid, phosphorus (from magnesium glycerophosphate), natural flavor, inulin (from chicory root), potassium (from potassium citrate, and/or potassium chloride), sulfur (from magnesium sulfate, and/or zinc sulfate, and/or copper sulfate, and/or vanadyl sulfate), calcium (from calcium citrate, and/or calcium malate, and/or calcium chloride), sorbic and/or benzoic acid(s) [protect freshness], stevia leaf extract, zinc (from zinc sulfate), boron (from sodium borate), manganese (from manganous chloride), copper (from copper sulfate), chromium (from chromium chloride), iodine (from potassium iodide), selenium (from sodium selenate), vanadium (from vanadyl sulfate).
• Gluten Free
• No Artificial Flavors
• No Artificial Colors
• Diabetic Friendly
• Vegan Friendly
• No Fish Ingredients
• Cold Processed
• No Irradiation
• No Pasteurization
Directions: Adults: 2 ounces daily (60mL). Best if divided 1 ounce am and 1 ounce pm. Shake well before using.
Recommendations: May combine with 8 ounces of water or juice.
Storage Directions: Avoid freezing and heat. Refrigerate after opening.
Caution: Do not consume if tamper resistant seal is broken or missing. Do not consume if allergic to components in product. As with all dietary supplements, contact your doctor before use. If taking prescription, have an ongoing medical condition, pregnant, nursing or under age 18, consult doctor before use. KEEP CAP TIGHTLY CLOSED. KEEP OUT OF REACH OF CHILDREN.