Eniva Cares! Temporary Price Reduction: Liquid Zinc now at "Sale Pricing" to help Families Stay Healthy
Eniva Minerals for Life® Liquid Zinc Concentrate is a dietary supplement of the Cell-Ready® mineral ZINC in a proprietary nutrient delivery system. Our natural zinc supplement is easy to take and offers support for your body's wellbeing.
Zinc Helps to Support:
• Healthy skin*
• Connective tissue*
• Healthy immune system*
• Blood sugar levels already in a normal range*
• Vision*
• Reproduction*
Zinc (symbol "Zn") is an essential mineral that is a component of more than 300 enzymes needed to carry out proper body function. Zinc is key for healthy skin, connective tissue, blood sugar, vision and reproduction. Zinc has also been recognized in research to help promote a healthy and normal immune system.*
Solutomic®:
An advanced form of mineral ions in solution for enhanced absorption and body use utilized in our liquid vitamins and minerals.
The purer the water the more efficiently minerals are activated into their electrically charged ionic state. Eniva uses OHM® water (multi-step purified water) in a unique proprietary process at Eniva's government-inspected manufacturing facility, yielding an advanced aqueous form of copper ions (Solutomic) in sparkling clear solution for quicker absorption than tablets or capsules which must first dissolve in the digestive system before being absorbed.
Aqueous Stabilization™:
Eniva's liquid proprietary nutrient stabilization process.
Scientific References:
Data on file, Eniva Corporation, 2020.
---
* This statement has not been evaluated by the Food and Drug Administration. This product is not intended to diagnose, treat, cure, or prevent any disease.
LIQUID IONIC ZINC: Pleasant-tasting zinc supplement in an ionized, liquid design (16oz) for daily immune health. Safe and effective for everyday use throughout the year.

DAILY IMMUNE HEALTH: Zinc is recognized as an Essential Daily Nutrient. It is important for immune health, vision health, skin and beauty health, brain and memory health. It is also recognized in topical wound application and general wellbeing.

SIMPLE MEASURING: No more "counting drops". Simply pour a teaspoon for fast and easy application. ZERO CALORIES: Zero sugar. Zero sweeteners or flavors. Keto and low-carb appropriate.

FAST-ACTING LIQUID: Convenient, fast-acting design can be taken straight or added to water, juice or favorite beverage or shake. Easier for many people versus hard-to-swallow pills or messy powders.

MADE IN USA AT THE ENIVA GMP-CERTIFIED FACILITY. This product is gluten free, soy free, dairy free, alcohol free, preservative free, vegan, purity-tested and DOCTOR FORMULATED. Satisfaction Guaranteed.
Zinc Liquid Concentrate (16 oz)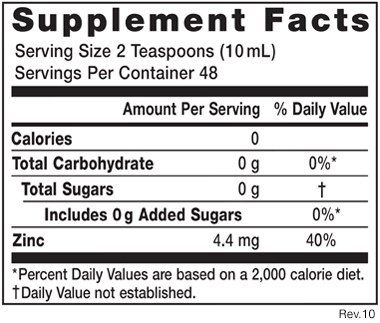 Ingredients: Purified water, zinc (from zinc sulfate).
• Gluten, Soy & Dairy Free
• Non GMO
• Vegan
• Zero Sugar & Zero Carbs
• No Artificial Colors
• No Artificial Flavors
• No Artificial Sweeteners
Directions:
Adults: 1 Serving daily.
Shake well before using.
Mix with 8 ounces of liquid.
Storage:
Avoid excessive heat.
Best if refrigerated after opening.
Caution: Do not consume if tamper resistant seal is broken or missing. Do not consume if allergic to ingredients. As with all dietary supplements, contact your doctor before use. If taking prescriptions, have an ongoing medical condition, pregnant, nursing or under age 18, consult doctor before use.
KEEP CAP TIGHTLY CLOSED.
KEEP OUT OF REACH OF CHILDREN.