Product Description
Eniva Heartflow Super Bs® are specially formulated heart health supplements designed to promote the health of blood vessels in the human body.* This formula provides high-potency liquid B-complex, shown in clinical studies to support healthy and normal homocysteine levels, a key factor in blood vessel health and function.*
High-Potency B12 and B6 Support:
CARDIOVASCULAR:
• Blood vessel and heart health*
• Healthy homocysteine levels*
• Red blood cell health*
NEUROLOGIC
• Nerve function*
• Brain function*
• Memory*
EMOTIONAL
• Healthy mood*
• Stress management*
The Eniva Heartflow Super B's heart health vitamins have "Full Spectrum" fruit and vegetable extracts. While this formula is ideal for the heart and healthy homocysteine levels, high potency B12, Folate and B6 are also wonderful for many other health goals -- red blood cell health, nerve function, brain health, mood, the immune system and specialized health challenges.* As the human body does not synthesize B-vitamins, this formula also addresses nutritional deficiencies that may occur as an individual ages.*
Full-Spectrum B-Phytonutrient Blend:
• Broccoli
• Pomegranate
• Inositol
• Watermelon
• Orange
• Grape Seed Extract
Homocysteine is an important factor for heart health. Vitamins B12, B6 and Folic Acid all play a role in the regulation of homocysteine levels in the body, helping convert it to substances which do not interfere with normal blood vessel function and health.*
The advanced liquid formula of Heartflow Super Bs® assists in quicker absorption and use of ingredients than tablets or pills, which must first dissolve in the digestive system before being absorbed.*
One question commonly asked is, "How is this product different than the regular Eniva B Complex?"

The answer: Eniva Super B's contains three specific B-vitamins at exceptionally high potency: Vitamin B12, Folate, and B6. In contrast, the Eniva B-Complex is ideal for those seeking to add a "B-Boost" for energy, stress management or for other specific reasons.*

Risk Factors that impact a Healthy Heart:
• High blood pressure
• Diabetes
• High cholesterol and triglycerides
• Smoking and tobacco use
• Obesity
• High homocysteine levels
• Poor nutritional status
- Approximately 35% of heart attacks occur in people with normal total cholesterol levels.
Because of this, medical researchers continue to work to identify those risk factors that affect the chance of developing heart disease. One of these risk factors appears to be homocysteine.
The Homocysteine Connection
What is Homocysteine?
When the body digests protein, homocysteine is produced. Homocysteine is an amino acid derivative of protein metabolism.
What happens when Homocysteine is out of balance?
Homocysteine injures arterial walls and promotes the build-up of "plaque."
Homocysteine can cause the growth of smooth muscle cells in vessel walls, narrowing the blood vessel.
Homocysteine increases the risk of blood clots.
Homocysteine can impact blood sugar levels, neurologic function and kidney function.
How does Homocysteine work in my body?
Homocysteine requires the necessary cofactors to break down and metabolize homocysteine. The necessary cofactors are Folic Acid, Vitamin B12 and Vitamin B6. These nutrients all play a role in the regulation of homocysteine in the body, converting it to substances, such as methionine and cysteine, which do not interfere with normal vessel function and health.
Increased doses of Vitamins B12, Vitamin B6, and Folic Acid have been shown in clinical studies to support healthy levels of homocysteine in the body.
What are healthy Homocysteine levels?
The American Heart AssociationTM has indicated a reasonable goal should be less than 10 micromoles per liter. Other research suggests that optimal homocysteine levels should be less than 6 micromoles per liter, especially in high risk individuals.
Aqueous Stabilization™:
Eniva's liquid proprietary nutrient stabilization process.
Scientific References:
Data on file, Eniva Corporation, 2015.
---
* This statement has not been evaluated by the Food and Drug Administration. This product is not intended to diagnose, treat, cure, or prevent any disease.
Nutrition Facts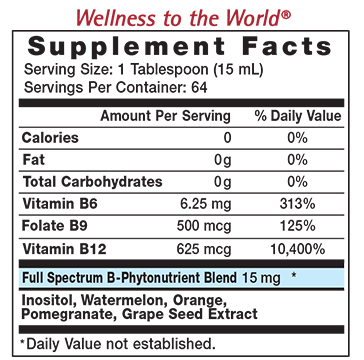 Ingredients: Purified water, natural flavors, sorbic and/or benzoic acid(s) (protect freshness), pyridoxine hydrochloride, inositol, malic acid, citric acid, xanthan gum, l-methylfolate calcium, methylcobalamin, broccoli extract, pomegranate seed, grapeseed extract, stevia leaf extract.
• No Artificial Colors or Flavors
• Gluten Free
• Diabetic Friendly
• Vegetarian Friendly
• No Fish Ingredients
• Cold Processed
• No Irradiation
• No Pasteurization
Directions: 1-2 servings daily (15-30mL).
Shake well before using.
Recommendations: May combine with 8 ounces of water or juice.
Storage Directions: Avoid freezing and heat. Refrigerate after opening.

Cautions: Do not consume if tamper resistant seal is broken/missing. Do not consume if allergic to components found within product. As with all dietary supplements, contact your doctor before use. If taking prescription medications, have an ongoing medical condition, are pregnant, nursing or under age 14, consult doctor before use. KEEP CAP TIGHTLY CLOSED. KEEP OUT OF REACH OF CHILDREN.
Drug Interactions: Pyridoxine supplements should not be given to patients receiving levodopa because the action of this drug is antagonized by pyridoxine. However, pyridoxine may be used concurrently in patients receiving a preparation containing both carbidopa and levodopa. Concurrent use of phenytoin and methylfolate may result in decreased phenytoin effectiveness. Seek your health care professional's advice.
Other Interactions: Individuals with known hypersensitivity or allergic reaction to any of the components in the product should not consume. Do not use when there is fluid retention resulting from reduced renal or cardiac activity. Discontinue usage if undesirable reactions should arise.
Find Similar Products by Category
Customers also viewed