Eniva
ResVante
™
Heart • Brain • Healthy Aging*
A highly specialized liquid trans-resveratrol dietary supplement formulated with both high-potency trans-resveratrol and a proprietary blend of powerful antioxidant extracts, citrus flavonoids and quercetin.
Health Benefits:
• High-potency compound that supports healthy aging*
• A potent antioxidant that supports cardiovascular health*
• Supports healthy mitochondrial biogenesis and function*
• Aids in sustained muscle function*
• Helps to counteract muscle fatigue and supports muscle recovery after exercise*
• Supports energy and stamina*
• Mimics the effect of calorie-restricted diets with promoting longevity*
• Supports a healthy weight*
• Aids immune system function*
• Maintenance of neurocognitive function*
• Balance, sensory-motor coordination and endurance*
• The benefits of red wine without the alcohol*
Eniva ResVante Reserve is a highly concentrated, non-alcoholic, trans-resveratrol dietary supplement formulated to support healthy aging.*
ResVante contains 99% ultra pure trans-resveratrol at a scientifically effective and potent concentration. ResVante also contains a specialized phytonutrient and proprietary red wine complex designed to support trans-resveratrol action in the body for normal cardiovascular and neurologic health.* It is the first, authentic trans-resveratrol liquid RESERVE formulation available to the public!
What makes ResVante Unique?
• The Potency Factor • The Nutrient Delivery Factor • The Safety Factor • The RESERVE Factor
The Potency Factor
While trans-resveratrol is found in red wine, it is in a very low concentration. Researchers have found the amount of trans-resveratrol needed to significantly activate human genes in clinical studies vastly exceeded the amount of wine that would ever be healthy to drink. ResVante contains 99.9% pure, validated trans-resveratrol at a scientifically effective and potent concentration. It provides proven cofactor synergy through the presence of concentrated natural phytonutrients from resveratrol-containing fruits and a proprietary red wine complex.
The Nutrient Delivery Factor
Resveratrol is a nutrient that is only moderately absorbed from the human gut – and the absorptive efficiency of the body decreases as we age. Unlike tablet and pill products, the advanced nutrient delivery system of ResVante solves this issue through its proprietary and "activated" liquid design which maximizes the absorptive potential of trans-resveratrol. ResVante contains specialized red wine complex nutrients to promote prolonged use by the body through metabolic channeling.
The Safety Factor – Eniva Nutraceutics®
Most resveratrol used in nutritional products is of low quality and imported from questionable locations where quality and human rights are not a priority. Plus, the manufacturing locations of the finished store-shelf products are often kept hidden from the consumer, even within the United States. ResVante provides 99.9% pure, validated trans-resveratrol free from pesticides and other contaminants. ResVante contains trans-resveratrol sourced from the wine country of France and comprehensive pesticide, herbicide, heavy metal and microbial testing is performed on all ResVante phytonutrient ingredients. Manufactured in the USA at the Eniva Nutraceutics® state-of-the-art FDA-inspected facility under strict governmental GMPs, ResVante contains no fillers or binders, no additives, no artificial flavors or colors, no animal products.
The RESERVE Factor
Only ResVante delivers validated trans-resveratrol from the French wine country in an activated liquid design with synergistic cofactors and a proprietary red wine extract complex (RWEC). ResVante is nitrogen flushed for maximum protection and freshness.
What is the Trans-Resveratrol Discovery?
Trans-resveratrol is the unique, age-defying and health-promoting nutrient found within red wine. The discovery by a Harvard Medical School† researcher shows that concentrated resveratrol activates human genes responsible for longevity, survival and cardiovascular health, has triggered worldwide research into this powerful health-sustaining substance.
Resveratrol molecules have been shown to turn on the pathways that affect DNA and the aging process. The important factors of resveratrol potency and concentration are key to its effect. The outstanding health benefits recently discovered have been uniquely experienced from using concentrated resveratrol. Researchers are tapping into the natural matrix whereby resveratrol, made by plants to protect themselves from stress, transfers these natural benefits to significantly support health.*
Additional study suggests resveratrol works through various mechanisms including those that impact energy metabolism and cell survival.* Resveratrol apperas to have an effect on similar genes as caloric restriction, a model known to also affect aging.*
What is Resveratrol?
Resveratrol is a highly researched, natural and powerful antioxidant associated with healthy aging and vitality*. Structurally, it is a polyphenol and most notably found in red wine grapes. Resveratrol has been found to counteract the effects of free radical age-associated damage.* It also helps activate your body's natural defense mechanism and provides nutrients to support total wellbeing.* The outstanding health benefits of recently discovered resveratrol have been uniquely experienced with consumption of appropriate concentrated resveratrol.* Research also indicates that resveratrol mimics the effects of calorie restriction without dieting.*
WE MAKE OUR OWN



• It's important to know who and where your products come from!
• Made in Minnesota.
• Eniva products are USA produced.
• We manufacture onsite at our own certified manufacturing facility in Minnesota.
• For nearly 25 years, we've been delivering premium quality supplements to millions of people.
OUR PROMISE TO YOU
SAFETY - QUALITY - EFFECTIVENESS
• We care about your experience.
• If a customer is not pleased with any product purchase, we will offer a refund or exchange.
• All products are refundable/exchangeable within 30 days of purchase.
• We are committed to providing outstanding customer care for you.
*This statement has not been evaluated by the Food and Drug Administration. This product is not intended to diagnose, treat, cure, or prevent any disease.
Resvante is a specialized liquid antioxidant supplement with high potency Resveratrol and a complementing blend of additional antioxidant phytonutrients from grapes, p

omegranate, acai berry, cranberry, lyceum berry and grape seed extract.

It also contains the

powerful anti-aging nutrient Quercetin.




Just one ounce of Resvante is equivalent to drinking 300 glasses of red wine in antioxidant resveratrol content.

Alcohol free, vegetarian, gluten free, sulfate free, dairy free, soy free, no irradiation, no pasteurization. Free from artificial colors, flavors or sweeteners.

Delicious red grape natural flavor. Serving size 1 ounce. 32 servings per bottle.

Harvard Medical research on resveratrol shows it supports brain function, balance, sensory-motor coordination, endurance, muscle function, energy and stamina, healthy weight, cardiovascular health and healthy aging.*

Resvante contains 99% ULTRA-PURE resveratrol liquid in a scientifically supported dose to address the aging process.*
ResVante (32 oz)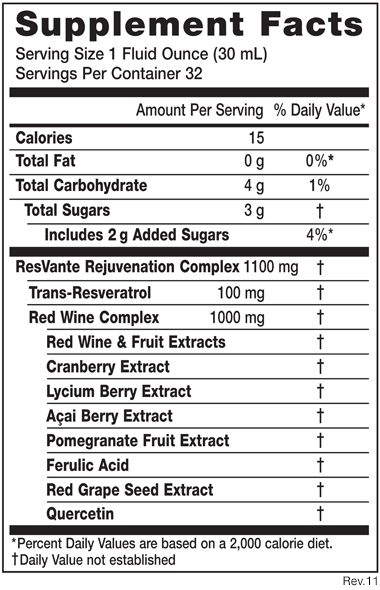 Other Ingredients: Purified water, natural sugar (beet), natural flavors, vegetable glycerin, citric acid, malic acid, xanthan gum, organic stevia leaf extract, sorbic and/or benzoic acid(s) (protects freshness)
• Non Alcoholic
• Soy Free
• Gluten Free
• No Sulfites
• Great Tasting
• Vegan
• No Artificial Flavors
• No Artificial Colors
• No Artificial Sweeteners
• BPA Free Bottle
Directions:
Adults: 1 Serving daily.
Shake well before using. Mix with water or juice as desired.
Storage: Avoid excessive heat. Refrigerate after opening
Caution: Do not consume if seal is broken or missing. Do not consume if allergic to ingredients. As with all dietary supplements, contact your doctor before use. If taking prescriptions, have an ongoing medical condition, pregnant, nursing or under age 18, consult doctor before use. KEEP CAP TIGHTLY CLOSED. KEEP OUT OF REACH OF CHILDREN.