Eniva Minerals for Life® Trace® Multi Minerals is a liquid dietary supplement of Cell-Ready® minerals in a proprietary nutrient delivery system.
Trace provides a wide spectrum of rare minerals needed by the body. Because Trace contains small amounts of the major minerals, it is recommended that Trace be taken with a comprehensive mineral program to support integrated nutrition.
Minerals: The Essence of Life
Minerals are essential to every function within the human body. Trace elements and minerals must exist in relative balance in the fluids, cells, organs, and tissues of the body to contribute to human health.* Trace minerals function best in the body when they're in the proper relationship to one another. The goal is to achieve mineral balance in the body.
Consumption of a well-balanced diet is critical to health. Due to soil nutrient depletion and current manufacturing processes, however, the majority of food eaten has less than optimal amounts of usable minerals. Therefore, supplementation is a wise method for providing the body with these needed nutrients.*
The form of the minerals present in Trace are modeled after nature. This allows the body to easily use these nutrients to make substances that are vital participants in many of the chemical reactions of life.*
The Natural State of This Supplement Also Makes it Unique. Trace attributes:
• No Fructose or Sugars
• No Artificial Colors or Flavorings
• No Calories or Caffeine
• No Animal By-products or Animal Testing
Solutomic®:
An aqueous, submicron form of mineral ions in pure water for enhanced absorption and body use.
The purer the water the more efficiently minerals are activated into their electrically charged ionic state. Eniva uses OHM® water (multi-step purified water) in a unique proprietary process at Eniva's government-inspected manufacturing facility, yielding an advanced aqueous form of copper ions (Solutomic) in sparkling clear solution for quicker absorption than tablets or capsules which must first dissolve in the digestive system before being absorbed.
Aqueous Stabilization™:
Eniva's liquid proprietary nutrient stabilization process.
Scientific References:
Data on file, Eniva Corporation, 2015.
---
* This statement has not been evaluated by the Food and Drug Administration. This product is not intended to diagnose, treat, cure, or prevent any disease.
Trace Multi Minerals (32 oz)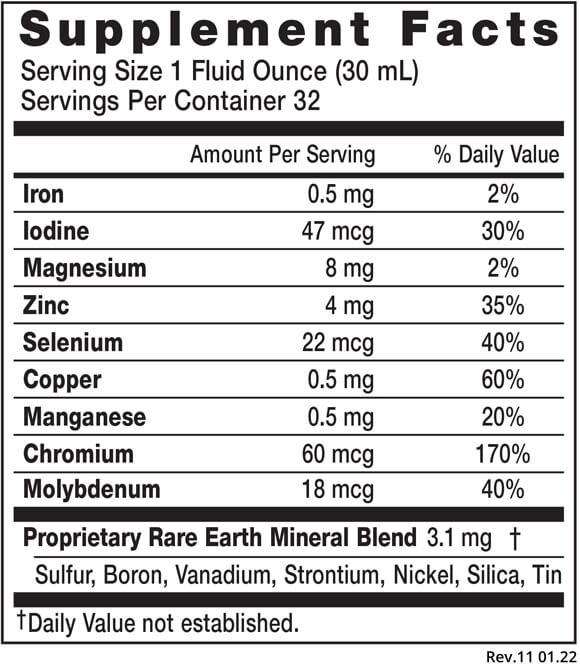 Ingredients: Purified water (multi-loop UV treated, deionized, microfiltered), magnesium (from magnesium chloride, and/or magnesium sulfate), sulfur (from zinc sulfate, and/or magnesium sulfate, and/or ferrous sulfate, and/or copper sulfate, and/or vanadyl sulfate), potassium (from potassium chloride), citric acid, zinc (from zinc sulfate), calcium (from calcium chloride), boron (from sodium borate), iron (from ferrous sulfate), copper (from copper sulfate), manganese (from manganous chloride), vanadium (from vanadyl sulfate), chromium (from chromium chloride), iodine (from potassium iodide), strontium (from strontium chloride), selenium (from sodium selenate), molybdenum (from sodium molybdate).
• Gluten, Soy & Dairy Free
• Non GMO
• Vegan
• Zero Sugar
• No Artificial Colors, Flavors or Sweeteners
• BPA Free Bottle
Directions: Adults: 1 ounce daily (30mL).
Shake well before using.
Mix with 8 ounces of liquid.
Storage: Avoid freezing and heat. Refrigerate after opening.
Caution: Do not consume if tamper resistant seal is broken or missing. Do not consume if allergic to ingredients. As with all dietary supplements, contact your doctor before use. If taking prescriptions, have an ongoing medical condition, pregnant, nursing or under age 18, consult doctor before use.
KEEP CAP TIGHTLY CLOSED.
KEEP OUT OF REACH OF CHILDREN.