Product Description
EFACOR® provides premium potency and purity in a specialized, natural Omega-3 oils EFA supplement containing high-dose EPA and DHA. The omega-3 EPA DHA formula focuses on providing these strongly-researched substances with a synergistic blend of other Omega-3 derivatives. Manufactured under strict cGMP standards, EFACOR® is a highly purified fish oil – free of environmental contaminants.
• Omega-3 Supplement of Essential Fatty Acids
• Concentrated EPA and DHA
The Omega-3s in EFACOR Have Been Shown to Support:
• Cardiovascular Health*
• Neurologic Health and Mood*
• Immune and Joint Health*
• Vision and Ocular Health*
• Healthy Weight and Skin*
The natural lemon flavor of these Omega-3 oil tablets offers a light refreshing taste.
EFACOR meets the American Heart Association's (AHA) recommendation of providing 1,000 mg of EPA and DHA daily for cardiovascular health. The FDA's qualified health claim is: Supportive but not conclusive research shows that consumption of EPA and DHA Omega-3 fatty acids may reduce the risk of coronary heart disease.**
Scientific References:
Data on file, Eniva Corporation, 2017.
---
**FDA evaluated the data and determined that, although there is scientific evidence supporting the claim, the evidence is not conclusive.
*These statements have not been evaluated by the Food and Drug Administration. This product is not intended to diagnose, treat, cure, or prevent any disease.
Nutrition Facts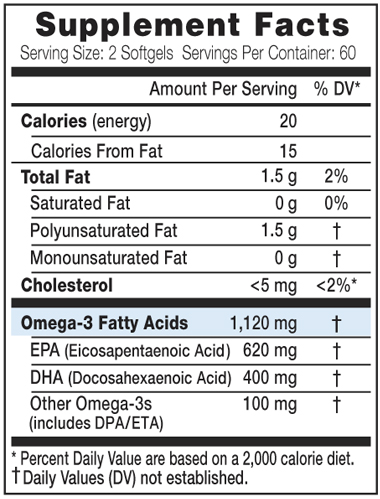 Ingredients: Highly refined and concentrated omega-3 fish oil, capsule (gelatin, glycerin and purified water), natural citrus flavor, proprietary antioxidant blend (consisting of rosemary extract, natural tocopherols and ascorbyl palmitate).
• No Artificial Colors or Flavors
• No Sugars
• No Stimulants

Directions:Two softgels daily, preferably 10 minutes before a meal. Do not exceed 10 softgels daily.
Children (4+): One softgel daily.
Recommendations: May Combine with 8 ounces of water/ juice.
Storage Directions: Avoid freezing and heat. Best if refrigerated upon receipt and after opening.
CAUTION: Do not consume if tamper resistant seal is broken/missing. Do not consume if you have a sensitivity or allergy to fish. Do not consume if allergic to components found within product. As with all dietary supplements, contact your doctor before use. If taking prescription medications, have an ongoing medical condition, are pregnant, nursing or under age 14, consult doctor before use. Isolated minerals or nutrients are best taken as part of a well balanced diet and broad supplement program. KEEP CAP TIGHTLY CLOSED. KEEP OUT OF REACH OF CHILDREN.
Find Similar Products by Category
Customers also viewed