Eniva Health Liquid Melatonin Concentrated Drops
When it's important to get a good might's sleep, make this supplement your new sleep aid!
Melatonin is an important substance your body needs in order to fall asleep and then eventually awaken. Think of it as your body's internal clock, giving you clues on when to go to sleep and when to wake up.
Darkness normally triggers the production of melatonin in your body, and light causes the production to stop. Melatonin plays a big role in regulating your circadian rhythm, helping you maintain a normal and healthy sleep cycle. Its biggest contribution to your health is that melatonin helps you experience consistent, quality rest.
Sometimes, however, sleep can become a problem. Lifestyle choices, diet, age, stress, variable work shifts and health issues can prevent you from getting regular quality sleep. Add in all the extra screen time that you most likely get in a day, and it's no wonder you may be seeking out a solution for restful sleep.
Since melatonin plays such a fundamental role in the body's sleep-wake cycle, melatonin has become one of the most commonly used supplements to help people attain a good night's rest.
Melatonin has been found to be especially helpful for people whose work shifts create a "night owl" schedule, but yet who need to be up in the morning for family or other obligations. Melatonin may help adjust their sleep cycle forward. This readjustment of the sleep cycle also helps people who experience jet lag.
The Eniva Health Melatonin provides additional support when your body needs a good night's sleep.* It's also a go-to supplement when you experience occasional sleeplessness.* And remember, your immune system works the hardest while you sleep. Your body needs 7 to 8 hours of sleep for your immune system to do its job! Less than that can put your health at risk, and may lead to problems. So any additional support you can get for good quality sleep will provide a direct benefit for your immune system and overall cellular health.*
Eniva Health Melatonin, it is a concentrated formula -- dispensed in drops -- making it convenient for travel and easy for dosing. Its liquid-fast liquid format allows your body to absorb it more quickly and easily than tablets or pills. (After all, you want to get to sleep quickly when you need sleep.) It contains no alcohol, sugars or artificial colors or flavors, which makes it a good choice compared to other products that do. It tastes delicious and comes to you formulated from a medical doctor.
Eniva Health Melatonin:
- Supports restful, relaxing sleep
- Helps your body sleep through a normal sleep cycle*
- Maintains balance of normal circadian rhythms*
- Allows you to awake feeling rested*
- Promotes healthy sleep patterns*
- Supports your immune system function*
- Liquid fast so you can get to sleep quickly
- Non habit forming
- Doctor formulated
- Drug-free and non-habit forming
- Delicious berry taste
- No sugars
- No artificial colors or flavors
- 3 mg melatonin per serving; plus can adjust for variable dosing
- Non-GMO
- Vegetarian, Soy-free, Dairy-Free, Gluten Free
- Alcohol-free
- Manufactured in the USA
- Produced leveraging more than 20 years of nutraceutical manufacturing
WE MAKE OUR OWN
It's important to know who and where your products come from!
• Made in Minnesota.
• Eniva products are USA produced.
• We manufacture onsite at our own certified manufacturing facility in Minnesota.
• For over 20 years, we've been delivering premium quality supplements to millions of people.
OUR PROMISE TO YOU:100% SATISFACTION GUARANTEE
• We care about your experience.
• If a customer is not pleased with any product purchase, we will offer a refund or exchange.
• All products are refundable/exchangeable within 30 days of purchase.
• We are committed to providing outstanding customer care for you.
Melatonin Liquid Concentrate Drops (1.7 oz)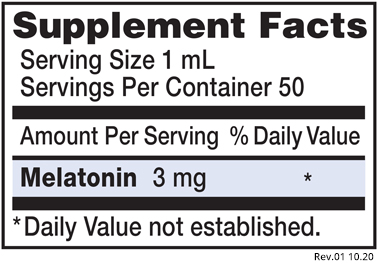 Other Ingredients: Purified water, xanthan gum, sorbic and benzoic acids (preserve freshness), citric acid, natural flavors, organic stevia leaf extract.
• Gluten Free
• No Sugars
• No Artificial Flavors
• No Artificial Colors
• Doctor Formulated
Directions:
Adults: 1-2 servings or as directed by healthcare provider, 30 minutes before bed. Shake well before using. May be taken directly or diluted.
Storage Directions: Avoid freezing and heat. Refrigerate after opening.
Caution: Do not consume if tamper resistant seal is broken or missing. Consult your healthcare professional before beginning this or any other nutritional intervention. KEEP OUT OF REACH OF CHILDREN.