Eniva® CoQ10 Plus supplements provides a generous serving of healthy heart and brain nutrients which support the normal and healthy cell function of the body.* Q-Plus utilizes Eniva's proprietary aqueous delivery system to provide enhanced absorption for maximum effectiveness.*
Q-Plus Helps to Support:
• Cardiovascular Health*
• Antioxidative Bioenergetic Balance*
• Energy Production*
• Fatty Acid Mitochondrial Transport*
• Immune Support*
• Oral Health*
• Mental and Nervous System Health*
• Transportation and Metabolism of Fats*
Integrated Heart & Brain Health*
L-Carnitine (Carnitine) and Coenzyme Q10 (Co-Q10) are natural substances found in all cells of the body and play an important role in energy production.* Both work in the mitochondria of cells, the most active portion of a cell dedicated to producing cellular energy. Furthermore, Co-Q10 is a potent antioxidant. More Co-Q10 and L-Carnitine are found in the heart tissue than in any other muscle of the body. With Lecithin and Vitamin C, they support cardiovascular function, mental health, the immune system and metabolism.* Lecithin also plays an important role in cholesterol metabolism in the body.*
Supporting a Healthy Heart*
Let's face it, to stay alive our hearts need to beat 24 hours a day, 7 days a week, 52 weeks a year. When you think about it, maintaining a healthy heart and cardiovascular system is a lifelong endeavor for all of us. Ideally, the quest for cardiovascular health should include eating a healthy diet, exercising regularly, and protecting our hearts with a variety of nutritional supplements. A coenzyme Q10 supplement can give your heart the support that it needs.
Eniva CoQ10 Plus is a generous blend of natural substances designed to support cardiovascular health.* Its contents - coenzyme Q10, L-carnitine, Lecithin and Vitamin C – have been specifically chosen for their demonstrated and researched benefits.
How CoQ10 Plus Works
Eniva CoQ10 Plus supplement is a 100% vegetarian, liquid formula with a lipid-soluble delivery system to provide superior bio-availability for optimal absorption.*
Co-Q10
Co-Q10 is a naturally-occurring nutrient in each cell. It plays a key role in the production of energy in the body and is also an excellent antioxidant.* Co-Q10 is synthesized endogenously within the body and distributed to bodily tissues where it is needed. Within the body, it is located mostly in the skeletal and cardiac muscle tissue, liver, kidney, brain, and reproductive organs--all areas of high physiological activity.
Co-Q10 resides within the mitochondria of cells, where life-sustaining, energy-producing processes take place. In the mitochondria, the "power plants" of the cell, a series of complex biochemical reactions take place. Co-Q10 is a vital component of this energy-generating process at the cellular level; it is a true coenzyme.
The body must continually generate energy within these minute, cellular power plants, to support life. Hence, the presence of Co-Q10 in the body is fundamental to sustaining life. The relationship of Co-Q10 to the intricate mechanism of cellular energy production brings about broader understanding of why Co-Q10 is needed for multiple biochemical processes in the body.*
Deficiencies of Co-Q10, with respect to cardiovascular function, have been documented since the 1970s. It is easy to grasp the concept of altered heart function as a consequence of chronic Co-Q10 deficiency. The heart muscle is in constant need of an energy supply to pump blood throughout the body. Muscle tissue, abundant in mitochondria, is extremely vulnerable to Co-Q10 concentration. It cannot perform without the energy-producing machinery intact.
As the body ages, its CoQ10 levels may drop and its ability to absorb CoQ10 from food also decreases. Researchers now recommend that even if older adults eat foods high in CoQ10, like spinach, eggs and fish, they should still supplement with a high quality CoQ10 product--one preferably in a body-ready design, like Eniva's CoQ10 Plus. Researcher's also note that for a "happy heart," a minimum of 75 milligrams should be taken daily. Even those who are younger can benefit with CoQ10-from heart concerns to renewed energy and vitality-everyone wins with regular use of CoQ10.
L-Carnitine
Among the most important of the supplements for maintaining a healthy heart and cardiovascular system is L-carnitine.* Although we are more familiar with L-carnitine as a safe and effective dietary supplement for enhancing exercise performance and managing weight, the scientific evidence that supports the beneficial role of L-carnitine in cardiovascular well-being is compelling.
L-carnitine is a naturally-occurring vitamin-like nutrient that plays an essential role in fat metabolism and energy production.* This nutrient is naturally produced and stored within our bodies, particularly in the skeletal and heart muscle, and is also a component of our diets, mainly in foods of animal origin. The metabolic function of L-carnitine is to transport fatty acids into the mitochondria, the energy-producing organelles within our cells. Inside the mitochondria, the fatty acids are burned and cellular energy is produced.
Since L-carnitine is an essential component of the fat-burning process, it is a critical nutrient for the heart, because cardiac muscle obtains an amazing 70 percent of all its energy requirements from the burning of fatty acids. Thus, it is not surprising that a high concentration of L-carnitine is found in cardiac muscle and that L-carnitine is considered to be vital for the proper mechanical functioning of the heart.
Studies on the beneficial effects of L-carnitine on the cardiovascular system began as early as 1937. L-carnitine benefits the cardiovascular system in several ways. First, it is responsible for clearing fatty acids (triglycerides) out of the blood and transporting them into the mitochondria to be broken down. Therefore, heart muscles are particularly vulnerable to L-carnitine deficiency.
Lecithin
Lecithin is a lipid that is required by every cell in your body. The cell membranes in the body are composed largely of lecithin. These membranes handle the flow of nutrients in and out of the cell. The protective sheaths around your brain are also made of lecithin. In addition, muscles and nerve cells use lecithin.
Lecithin has an important role in the metabolism of dietary fats. It aids in the transport and metabolism of dietary lipids.* Thus, lecithin helps support cardiovascular health.*
All-Natural Supplement
The all-natural state of this supplement also makes it unique. Q-Plus attributes:
• No Fructose
• No Artificial Colors or Flavorings
• No Calories or Caffeine
• No Animal By-products or Animal Testing
Aqueous Stabilization™: Eniva's liquid proprietary nutrient stabilization process.
Scientific References: Data on file, Eniva Corporation, 2017.
---
*This statement has not been evaluated by the Food and Drug Administration. This product is not intended to diagnose, treat, cure, or prevent any disease.
CoQ10 Plus Liquid Complex (16 oz)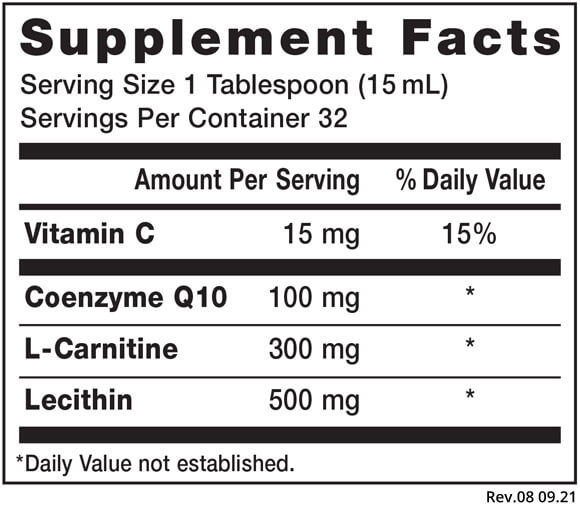 Ingredients: Purified water, (multi-loop UV treated, deionized, microfiltered), l-carnitine fumarate, isolated soy lecithin, polysorbate 80 (plant), coenzyme Q10 (ubiquinone), ascorbic acid, natural flavors, vegetable glycerin, sorbic and/or benzoic acid(s) (protect freshness), organic stevia leaf extract, arabic gum (plant).
• Gluten Free
• Lactose Free 
• Vegan
• No Artificial Colors, Flavors or Sweeteners
• BPA Free Bottle
Directions:
Adults: 1 Tablespoon daily (15 mL).
Mix with 8 ounces of liquid.
Shake well before using.
Storage Directions: Avoid freezing and heat. Best if refrigerated after opening.
Caution:
Do not consume if tamper resistant seal is broken or missing. Do not consume if allergic to ingredients. As with all dietary supplements, contact your doctor before use. If taking prescriptions, have an ongoing medical condition, pregnant, nursing or under age 18, consult doctor before use.
KEEP CAP TIGHTLY CLOSED.
KEEP OUT OF REACH OF CHILDREN.