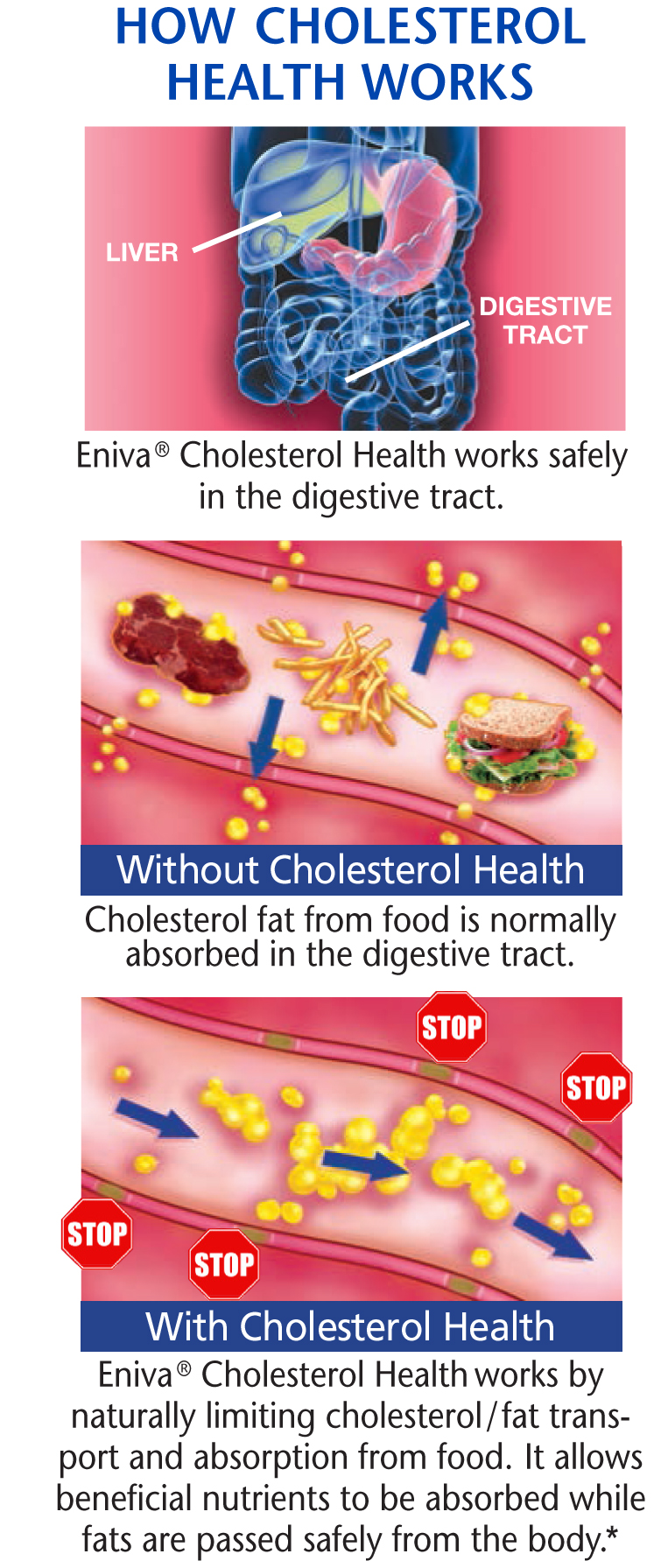 Liquid Plant Phytosterols
Eniva® Cholesterol Health is a natural solution to support healthy cholesterol levels and weight management through the use of solubilized plant phytosterols.** Research has shown that plant phytosterols, structurally similar to cholesterol, compete with cholesterol for absorption and thus play a meaningful role in supporting healthy cholesterol levels. Limiting the amount of fat and cholesterol from the foods you eat means less cholesterol will enter your digestive tract and bloodstream.*
• According to the FDA, "products containing at least 0.65g per serving of plant sterol esters, taken twice daily with meals for a daily total intake of at least 1.3 g, as part of a diet low in saturated fat and cholesterol, may reduce the risk of heart disease."
• The National Cholesterol Education Program (NCEP) of the National Heart, Lung and Blood Institute of Health also suggest the use of plant sterols to promote cardiovascular health. The recommended daily dose of 2 ounces of Eniva Cholesterol Health provides 2g of plant sterol esters for maximum cardiovascular benefits while supporting healthy cholesterol levels.**
Eniva® Cholesterol Health specialized liquid dietary supplement contains a proprietary blend of plant sterols and stanols that work to promote healthy total and LDL cholesterol levels and a healthy heart by limiting the absorption of dietary cholesterol into the bloodstream.**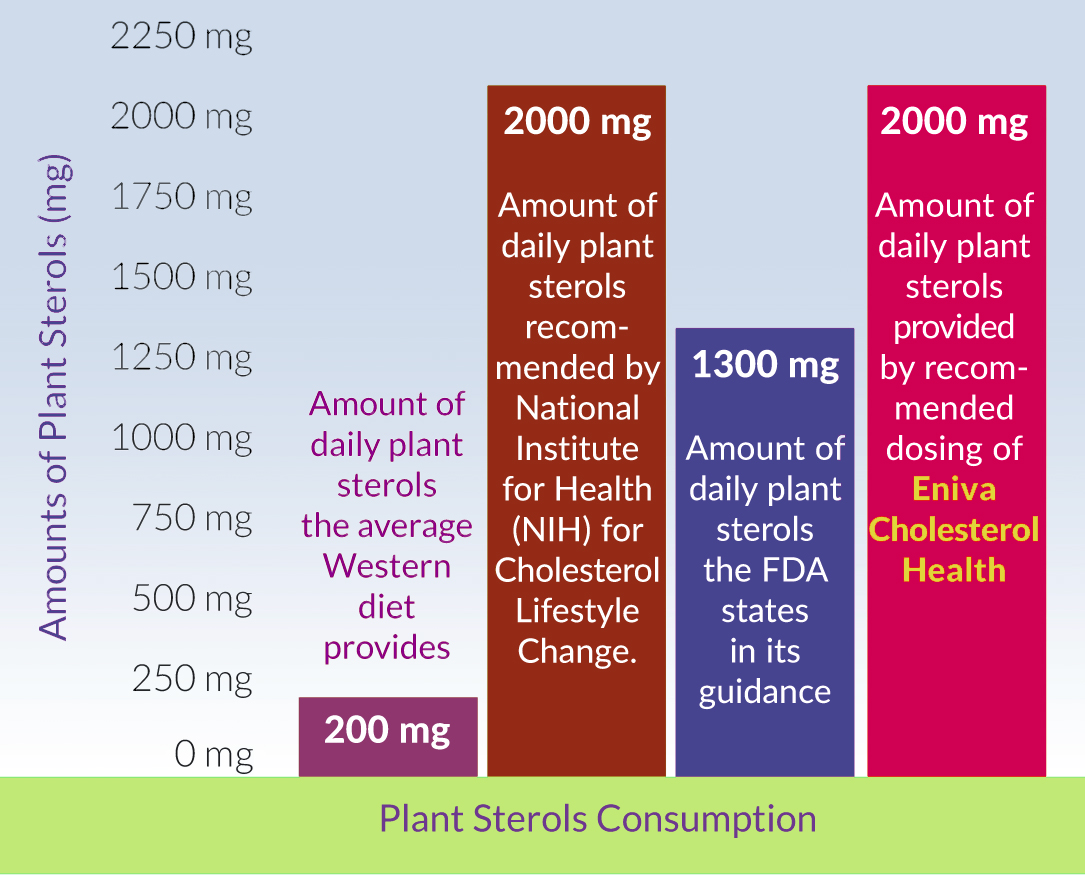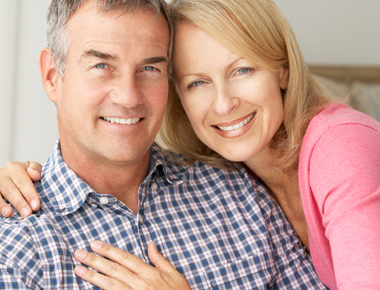 Benefits of Eniva Cholesterol Health • Phytosterols help limit LDL cholesterol in your diet from being absorbed* • Supports healthy heart and blood vessel function* • Controls fat and calories* • Naturally limits fat transport and absorption with use of phytosterols* • Non-stimulant • Safe, convenient and effective • Natural strawberry flavor – tastes great!
Mealtime Fat Control* In addition to supporting healthy cholesterol levels, Eniva Cholesterol Health assists with weight management. This NATURAL mealtime support, in conjunction with a healthy diet and exercise, controls fat and calories from food by limiting fat transport BEFORE being absorbed into the body.* • Taken before meals, with the help of SAFE PLANT PHYTOSTEROLS, fats are safely and comfortably passed by the body while beneficial nutrients from food are allowed to be absorbed. This means a limit on the fat/cholesterol in the body – and a healthy you!*

Aqueous Stabilization™: Eniva's liquid proprietary nutrient stabilization process.
Scientific References: Data on file, Eniva Corporation, 2017.
---
*This product has not been evaluated by the Food and Drug Administration. This product is not intended to diagnose, treat, cure, or prevent any disease.
**Products containing at least 0.65g per serving of plant sterol esters, taken twice daily with meals for a daily total intake of at least 1.3g, as part of a diet low in saturated fat and cholesterol, may reduce the risk of heart disease. The recommended dose of 2 ounces of Eniva Cholesterol Health provides 2g of plant sterol esters for maximum cardiovascular benefits.
NOTE: Each person may experience different outcomes depending on their individual health status. Individual results may vary. Proper weight management should be accomplished in conjunction with a good diet and exercise. Eniva supplements are meant to assist the body's efforts in weight management and do not guarantee weight loss. Consult your healthcare provider before starting any nutritional supplement program/product.
Cholesterol Health - 1 oz Packet
Other Ingredients: Purified water, Corowise™ plant phytosterols (contains corn), sugar (beet), natural flavors, guar gum, sorbic and/or benzoic acid(s) [protect freshness], malic acid, citric acid, stevia leaf extract.
• Gluten, Soy & Dairy Free 
• No Sulfites 
• Vegan 
• Diabetic Friendly
Directions:
Adults: Consume 1 oz, 5 minutes prior to meals. For best results consume 2 oz total daily: 1 oz with lunch and 1 oz with dinner.
Recommendations: May combine with 8 oz of water or juice. Due to Cholesterol Health's fat limiting properties, wait 60 minutes after consumption before taking any other supplements containing fat soluble nutrients (VIBE®, EFACOR®, CoQ10+ and Eye Health+®).
Storage Directions: Avoid freezing and heat. Refrigerate after opening.
Drug Interactions: This product is safe to use in conjunction with statin medications. Always seek your healthcare professional's advice.
Caution: Do not consume if tamper resistant seal is broken or missing. Do not consume if allergic to ingredients. As with all dietary supplements, contact your doctor before use. If taking prescriptions, have an ongoing medical condition, pregnant, nursing or under age 18, consult doctor before use.
KEEP CAP TIGHTLY CLOSED.
KEEP OUT OF REACH OF CHILDREN.